2nd Peak, the first, second-hand outdoor shop in Switzerland, has found new homes for 10,000 items of clothing. As a result, approximately 50 tons of CO2 emissions will be prevented. The equivalent of 10 single-family homes' annual emissions. This is formidable milestone for The Zurich-based company, founded in February 2020.
#SecondHand #CircularEconomy #ClimateFriendly
Meet Isa Schindler, Founder of 2nd Peak personally at OutDoor by ISPO 
What: GRV Guided Transparency Tour
When: Tuesday, June 14th, 2022 – 11am
Where: GRV Showcase/ Sustainability Hub- Atrium 4
Almost two years after launching 2nd Peak, in March 2022, the business successfully sold its 10,000th piece of second-hand clothing. "We're really happy about that," says Isabelle Schindler, Owner and Founder. "Despite the difficult circumstances during the pandemic we were able to save so many items of clothing from the waste stream, giving them a second life."
2021, 2nd Peak was voted 'Sustainable Outdoor Store of the Year', as well as named 'Best Practice Example' in the 'Zukunftsinstitut' retail report which was Founded in 1998. The Zukunftsinstitut Institute is considered to be one of the most influential think tanks in European trends and future research. It is also a source of information and inspiration for decision-makers and thinkers.
Six months after the start-up phase, which was established in a pop-up store, 2nd Peak had already outgrown its space. Relocating their shop to a shop three times larger allowed them quickly to meet the growing business demands.
The need for quality, second hand, outdoor clothing at 2nd Peak is constantly increasing, especially in the mountaineering circles. Well-known athletes like Snowboarder Levy Luggen, Cyclist Noah Blöchlinger and even Professional Alpinist Roger Schäli have enthusiastically joined this 'reuse' initiative. Through the selling of equipment that they no longer need to 2nd Peak, these top-level athletes are a leading example of the path towards contributing to the circular economy in outdoor sports.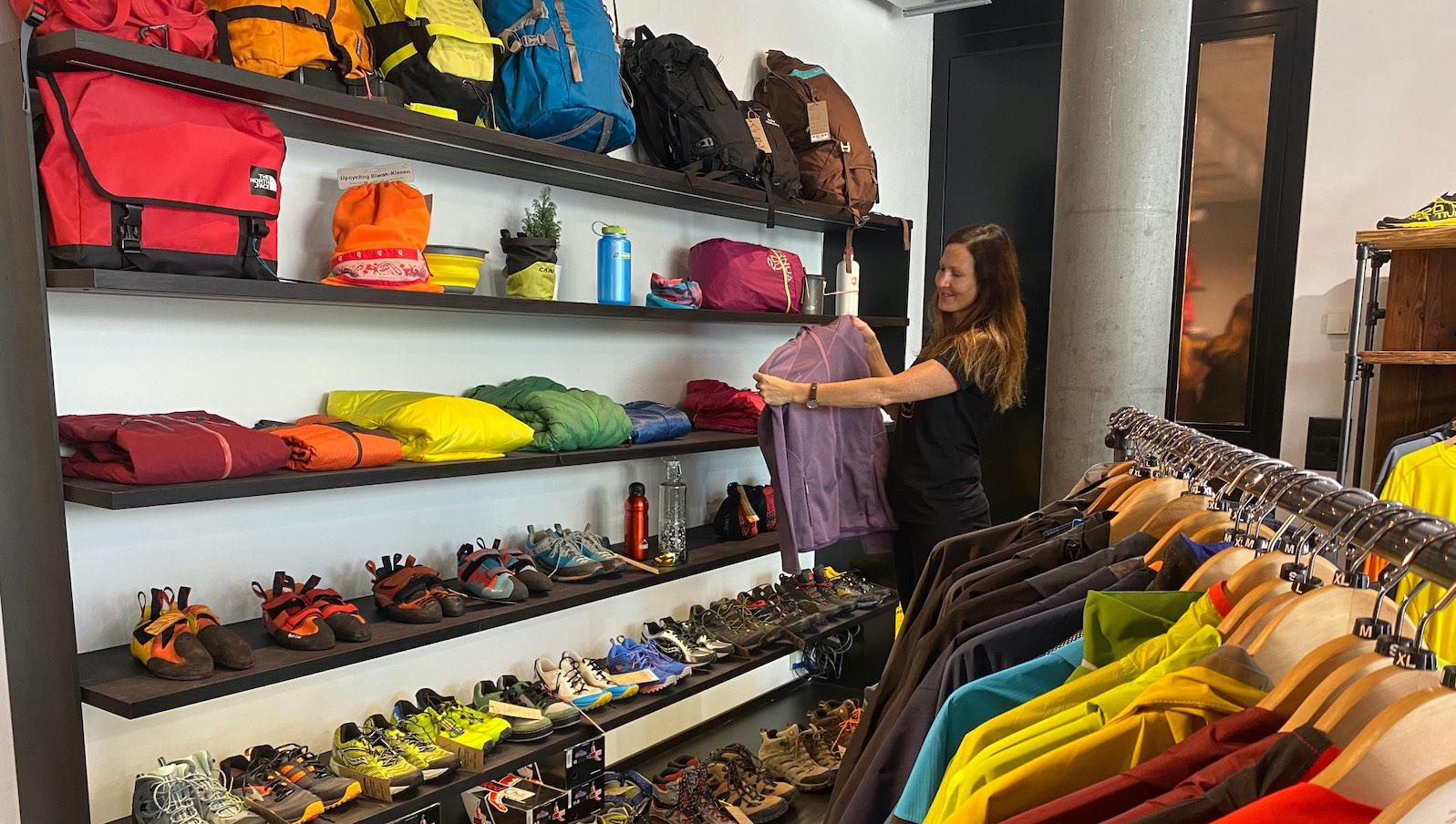 Billions of tons of clothes are produced, bought and disposed of every year. Isabelle Schindler and her team are fighting against this supremely unsustainable process. "The most sustainable clothing is that which does not have to be produced in the first place." States Isabelle Schindler.
On average, Mr. and Mrs. Swiss buy 60 new items of clothing per year, 40% of the clothes stay unworn in the closet. By the time a piece of clothing reaches the consumer, it has a burden of having produced an average of 5-7 kg of CO2 emissions. This includes material, production process, transportation and packaging. 5-7 kg is a footprint estimate using calculations extracted from global measurements of ecological footprint data for an average garment, with information sourced from the Swiss textile-waste database. (Source 1.-8.)
In the case of outdoor clothing, the values are likely to be even higher due to the functional textiles and complex processing required in the production process. When doubling wearing time from one to two years the ecological footprint of a piece of clothing can be reduced by 24%, regardless of who is wearing it, the first or second user.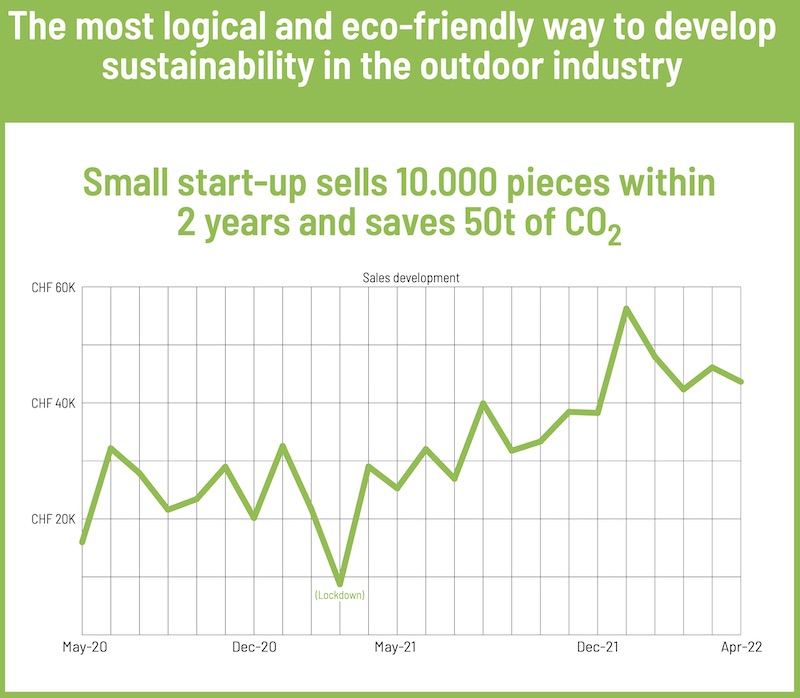 It is obvious, upon contemplating the facts, that buying a used piece of gear often prevents buying new. And, that new products have a significantly larger CO2 footprint than second hand products.
Selling well-preserved, and no longer wanted, outdoor clothing and equipment, instead of putting it in the nearest garment-return or recycling bin drastically reduces the environmental and social burden of every piece of clothing. Even though technical clothing left in conventional garment return containers might not end up being incinerated, it will ultimately not have the possibility to be resold or recycled or used to Its full potential. The clothing might end up in developing countries but will never prevent local outdoor enthusiasts from buying a new technical piece. 2nd Peak's business model therefore is the answer to the most productive outlet for next life of one's technical outdoor clothing.
The longer an item is kept in the use phase, the less is negative environmental impact the initial production of the product will have.
In order to extend the lifecycle of high-quality outdoor clothing, 2nd Peak also offers a washing, repair and rental service allowing consumers to lengthen the longevity and quality of products as well as the rental of items needed on a periodic basis.
Sources:
1.https://www.mckinsey.com/industries/retail/our-insights/fashion-on-climate#:~:text=Fashion%20makes%20a%20sizeable%20contribution,percent%20of%20the%20global%20total
2.https://www.greenpeace.org/international/story/7539/fast-fashion-is-drowning-the-world-we-need-a-fashion-revolution
3.https://www.wrap.org.uk/sites/files/wrap/VoC%20FINAL%20online%202012%2007%2011.pdf?_ga=2.244192837.1530560426.1606639494-1426391547.1606116377
4.https://www.tell-tex.ch/de/ueber-uns/jahresberichte
5.https://www.texaid.ch/geschaeftsbericht-2018/
6.https://vbsa.ch/wp-content/uploads/2018/04/Prognos_CH_Bericht_Final_20180324-SCHP.pdf
7.https://www.bafu.admin.ch/bafu/de/home/themen/wirtschaft-konsum/dossiers/magazin2019-4-dossier/mode.html
8.https://www.bafu.admin.ch/bafu/de/home/themen/abfall/abfallwegweiser-a-z/kleider-und-schuhe.html
Share your experience and meet the pioneers.
Connect with these exhibitors in person:
June 12th, 11 am: Climate Partner, Globetrotter, Südwolle Group/NZM, Textile Exchange
June 13th, 11 am: Hohenstein Institute, Lavalan®, Myclimate, VAUDE
June 14th, 11 am: 2nd Peak, Exped, Iteratif, Retraced