Südwolle Group, leading spinner of pure wool and wool blend worsted yarns, will be part of the Sustainability Hub at ISPO 2022 to present its close collaboration with The New Zealand Merino Company (NZM) and their ZQ ethical wool standard, and ZQRX regenerative platform. Südwolle Group partners with NZM, enabling leading brands around the world to access ZQ and ZQRX. ZQRX is the next evolution of doing the best for people and the planet, helping growers work with nature to continuously improve regenerative practices.
You can listen to our latest New Horizons Sustainability Podcast by Globetrotter about the New Zealand Merino Company here to find out more about their ZQRX standard
#MerinoWool #RegenerativeFarming #Traceability #ZQRX #GiveMoreThanYouTake
Meet Südwolle Group and the New Zealand Merino Company personally at ISPO 2022
What: GRV Guided Transparency Tour
When: Monday, November 28th, 2022 – 11am
Where: GRV Showcase/ Sustainability Hub- Future Lab Hall B2
Farmers around the world contribute to the natural carbon cycle by influencing the amount of carbon stored in plants and soils and by managing agricultural animals. Good management practices can increase the carbon stored in pastures and agricultural soils and thus make a positive contribution to mitigating climate change.(1) (Source ITWO)
Through the partnership with NZM and both their ZQ ethical wool standard and ZQRX regenerative platform, Südwolle Group customers have the opportunity to buy yarn made from ZQ or ZQRX spun wool. This provides solutions for forward thinking brands and consumers who crave the luxury and comfort of natural fibres, as well as value the importance of understanding environmental impacts and their carbon footprint.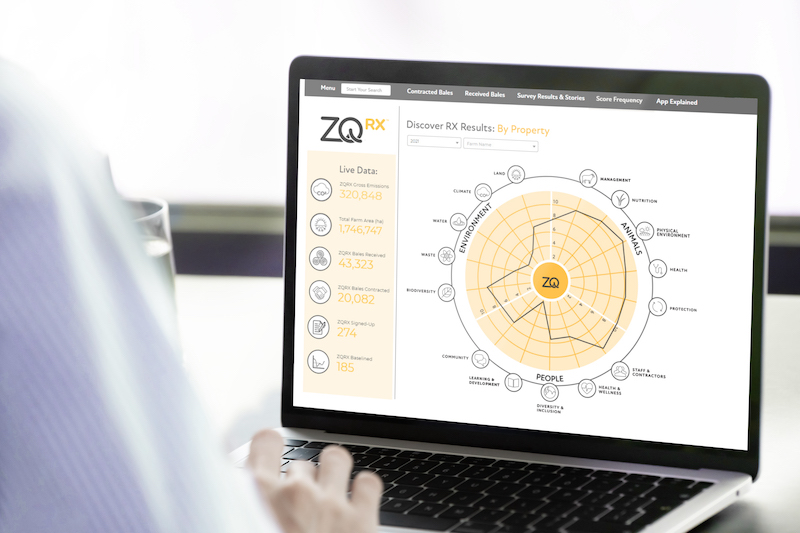 ZQ is the fibre of choice for world-class brands who are serious about producing superior natural products. Developed by The New Zealand Merino Company, ZQ became the world's first responsible and ethical wool standard in 2007. ZQ works with selected growers, wool and brands to provide 'fit-for-purpose' wool that is hand- selected for its natural brightness, staple strength, and quality consistency. ZQ Natural Fibre is sourced from accredited properties in New Zealand, Australia and South Africa. All ZQ farms are audited to the same ZQ standards, no matter where in the world.
ZQ wool is underpinned by the world's leading ethical farming systems with a commitment to animal welfare, environmental care, and social responsibility. Unlike commodity wool, ZQ wool is only available through forward contracts. These offer economic sustainability to brands and growers whilst providing certainty of fibre quality and final product performance.
Brands have the certainty of fibre supply as well as consistent quality and performance attributes of their final products., ZQ certified means each grower is also third-party audited and accredited to the Responsible Wool Standard (RWS).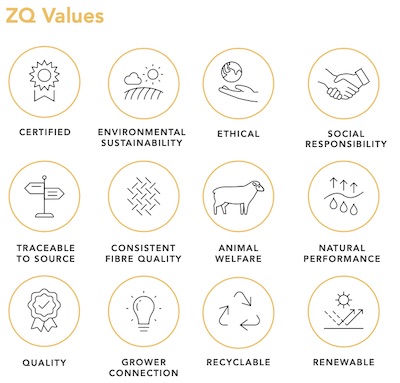 Brands can always trace back to the source of their wool and connect to the stories, values and ethical farming systems that go into producing ZQ wool. 
"We all have a very big responsibility. Reducing our carbon footprint is essential for the future. There are various things every one of us can do as a company, and also as a sole individual. Inside Südwolle Group, we've been measuring our CO2 emissions for many years and are actively sharing them in our Eco Balance report. We have to ensure that we see a constant reduction here. New machines or more efficient production plants are a small part of this. Going forward, we want to use more carbon-neutral raw materials such as merino wool from The New Zealand Merino Company's ZQRX regenerative platform."  Brand Director Michel Mastio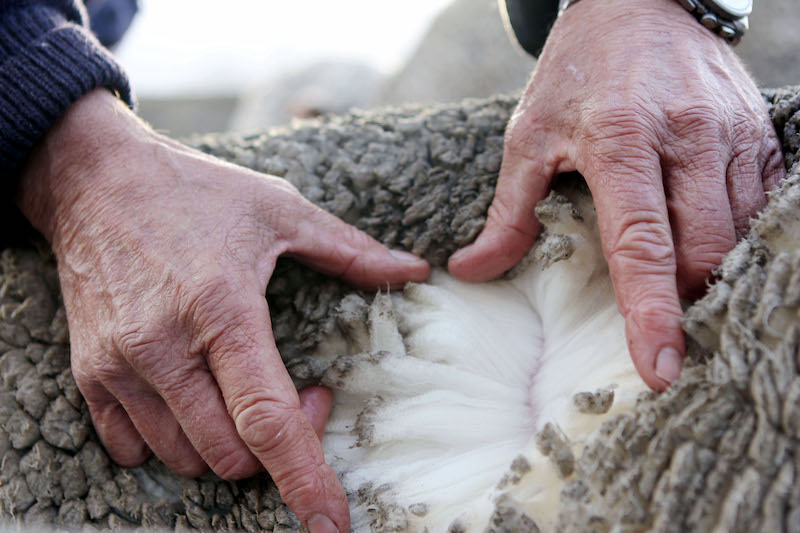 ZQRX is the next generation of ethical, regenerative fibre. The ZQRX platform provides a state of the art solution for consumers and brands who seek the next level of environmental, social and governance (ESG) performance. ZQRX takes a big picture view of the global challenges we all face and contributes to solving them by accelerating small, collective, regenerative-driven actions. It requires a collaborative approach from our ZQRX wool growers, ZQRX brands, and the consumers who choose ZQRX products.
ZQRX only works with the best growers globally, to ensure the highest quality wool which gives back more than it takes. Growers must be accredited to the world's leading ethical wool standard, ZQ, to qualify for the ZQRX programme.
Growers use a new platform called the Regenerative Index to help them measure and improve how much they give back as they restore waterways, protect native species, offset carbon, and enhance local communities.
RX provides each grower with user-friendly modelling, real-time metrics and machine learning. Essentially RX helps to track the environmental and ethical impacts of their wool growing process. Unlike other regenerative tools that simply report, the RX platform also guides ZQRX growers through the latest solutions, strategies, and techniques to help them continuously measure, improve and deliver on their environmental and ethical goals. Growers also actively share this information with consumer-facing brands empowering credible data-driven narratives and transparency, making ZQRX wool the first choice for forward-thinking consumers and brands.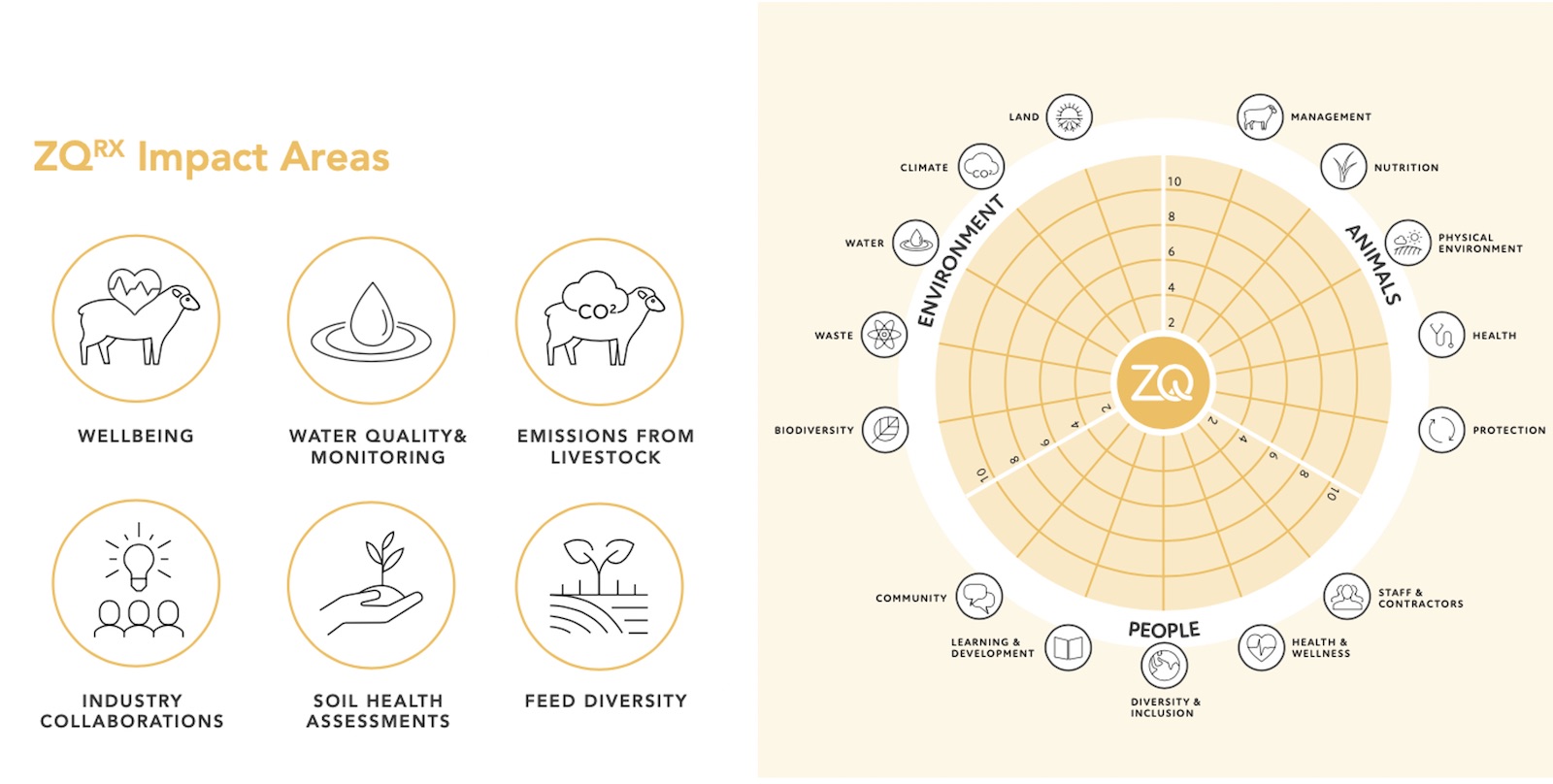 Traditionally, farmers sold their wool at auction with no knowledge of where it went or what it was to be used for. With ZQ and ZQRX, growers are connected to the brands that buy their wool, and they're proud to wear and use the products. Being able to produce wool for a specific purpose adds a greater sense of achievement.
All ZQ bales are selected to meet brand specification, sent to the central wool store, where they are logged, tested and sampled, to ensure quality standards are met, before being sent on to the next stage of the supply chain.
Traceability is made possible through the ZQ forward contract model from source to sale. ZQ Natural Fibre is fully traceable back to the individual farms the fibre is blended from, connecting ZQ products to the people behind it and giving confidence in the integrity of the fibre.
ZQ long term partnerships and the associated contracts exist through the supply chain, from farm to fashion. The relationships ZQ has with their partners span decades, and they only choose to partner with those that align with ZQ's values and share a similar vision for authenticity and sustainability.
ZQ growers adhere to the standards set out in the ZQ Grower Standard, which provide security and certainty in animal health and welfare, environmental practices, social responsibility, fibre quality and consistency, and it's all audited and traceable back to the source. ZQ farms are audited on a regular basis by a third-party Certified Accreditation Body (CAB).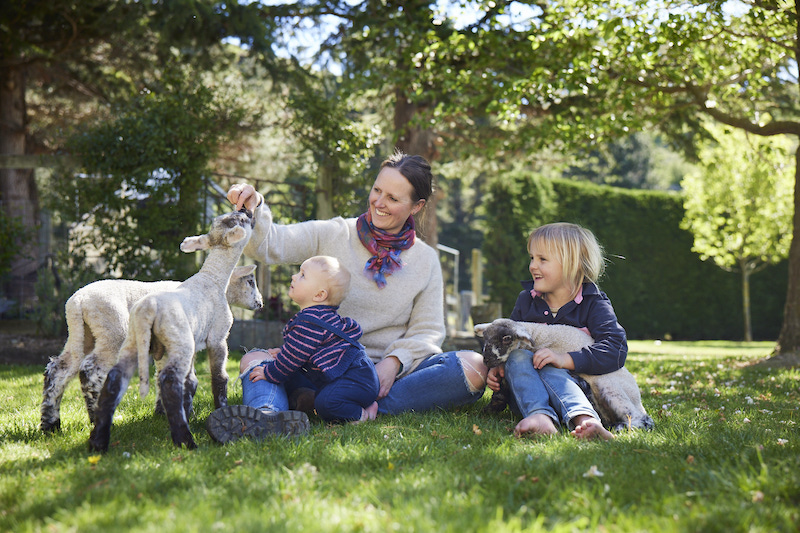 Share your experience and meet pioneers.
You can connect with these exhibitors personally:
November 28th, 11 am: 2nd Peak, Bergans, Bluesign, Earlybird Skies, GIZ (Partnership for Sustainable Textiles), lavalan, Südwolle Group
November 29th, 11 am: Bluesign, Iteratif, Mounatin Equipment, myclimate, Sympatex, Textile Exchange, The Outdoor Institute
November 30th, 11 am: Bluesign, Icebug, Globetrotter, Patagonia, Re:Down, VAUDE
If you are visiting ISPO 2022 in Munich, you can meet the team of Südwolle Group and the New Zealand Merino Company at their booth: