Globetrotter has taken a step that no other European retailer has taken yet.
To strengthen their position in the German market as leaders of the environmental movement, they now label products that "go the extra mile" with "A Greener Choice". GreenroomVoice joined the journey to co-create the exhibition for all seven flagship-stores in Germany to showcase the backbone of the program and highlight best practice examples. One message is clear: sustainability is a team sport. No matter how big any individual player is, no one will get further on their own. As its crucial to get everyone involved, we Fabian Nendza, the CSR Manager of Globetrotter and Anna Rodewald, our expert, how stakeholders, staff and customers have reacted.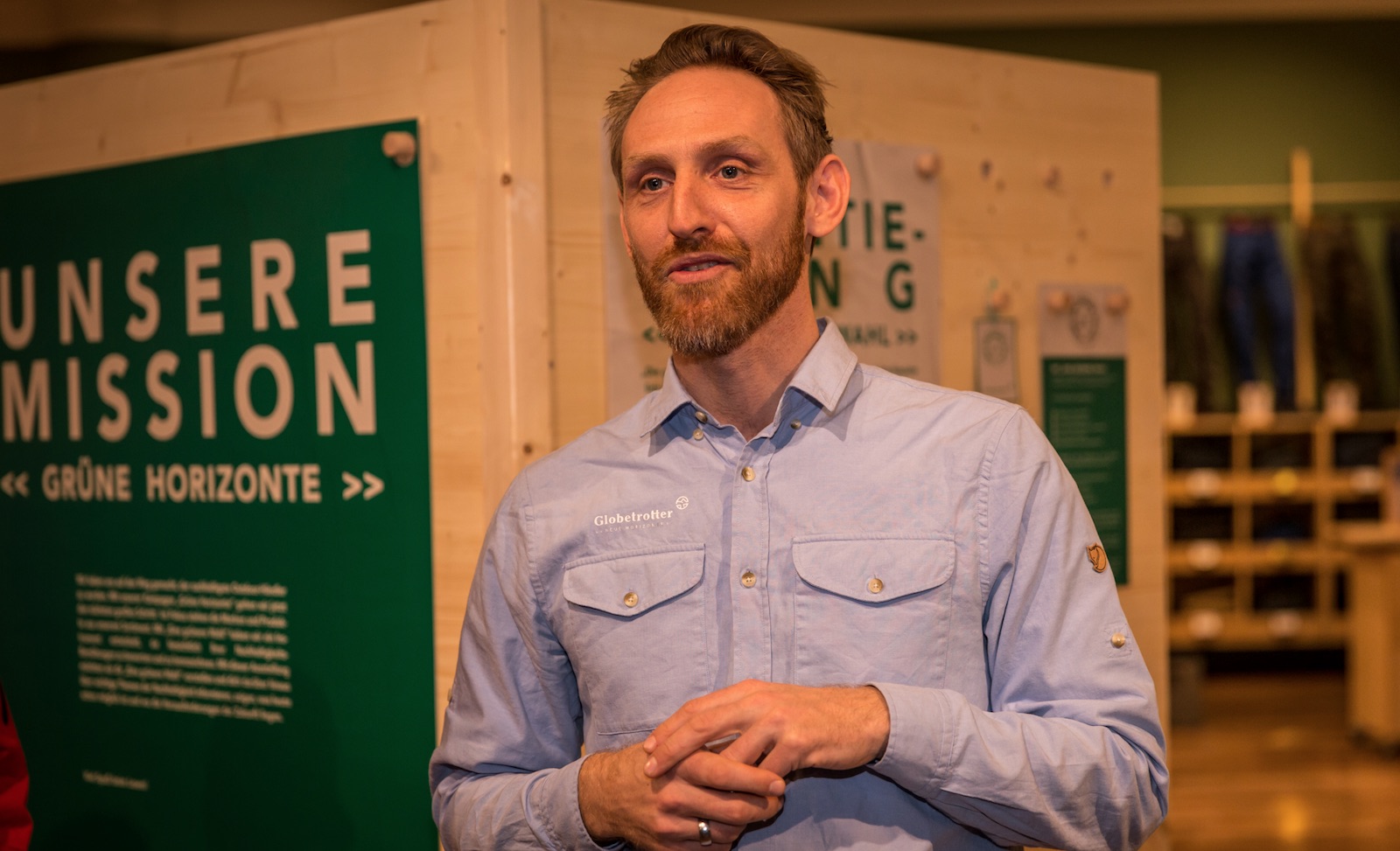 Fabian: A Greener Choice is an instrument for us to check the products in our assortment in regards to sustainability and to identify those who go the "extra mile". With this we reinforce our CSR-focus on our core business.
Within Frilufts Retail Group, A Greener Choice is already successfully established in Sweden and Finland since two and a half years, and now it is also used in Germany.
As a retailer we are the face towards the customers of outdoor brands and are in the unique position to inspire our customers to be outside and enjoy nature. We want to support them in a natural lifestyle and help them to protect the environment.
The label A Greener Choice helps our customers to identify "greener" products in our stores as well as online.
Fabian: We only sell quality products with a long lifespan. This is our main focus and most important contribution to sustainability. A Greener Choice means that the brand has taken active steps to make the product even more sustainable. To judge those efforts, we look at ten product related criteria and at least four of them must be met to qualify for A Greener Choice.
For example:
That there are no hazardous chemicals used during the production process.
That the product is made with an energy efficient production process.
That the materials used are recycled or other kinds of positive effort has been made to make the product better for the environment, fairer for workers and animals.
Fabian: During March and April, we have communicated on all our channels to introduce A Greener Choice. This brought the subject of sustainability to the attention of our customers.
The focus was a comprehensive exhibition in all of our big Globetrotter Stores, which covered the most relevant subjects of sustainability in the Outdoor Industry, like Lifespan and Reparability, Fair Labor Rights, Animal Welfare, Recycled Materials and Circular Economy.
We have educated our staff about A Greener Choice and offered 21 opportunities to discuss these subjects with us, and you guys from GreenroomVoice, as experienced moderators and sparing partners. All together we have reached out to over 300 people. We have invited personalities from the local communities, politics and science and of course our globetrotter customers.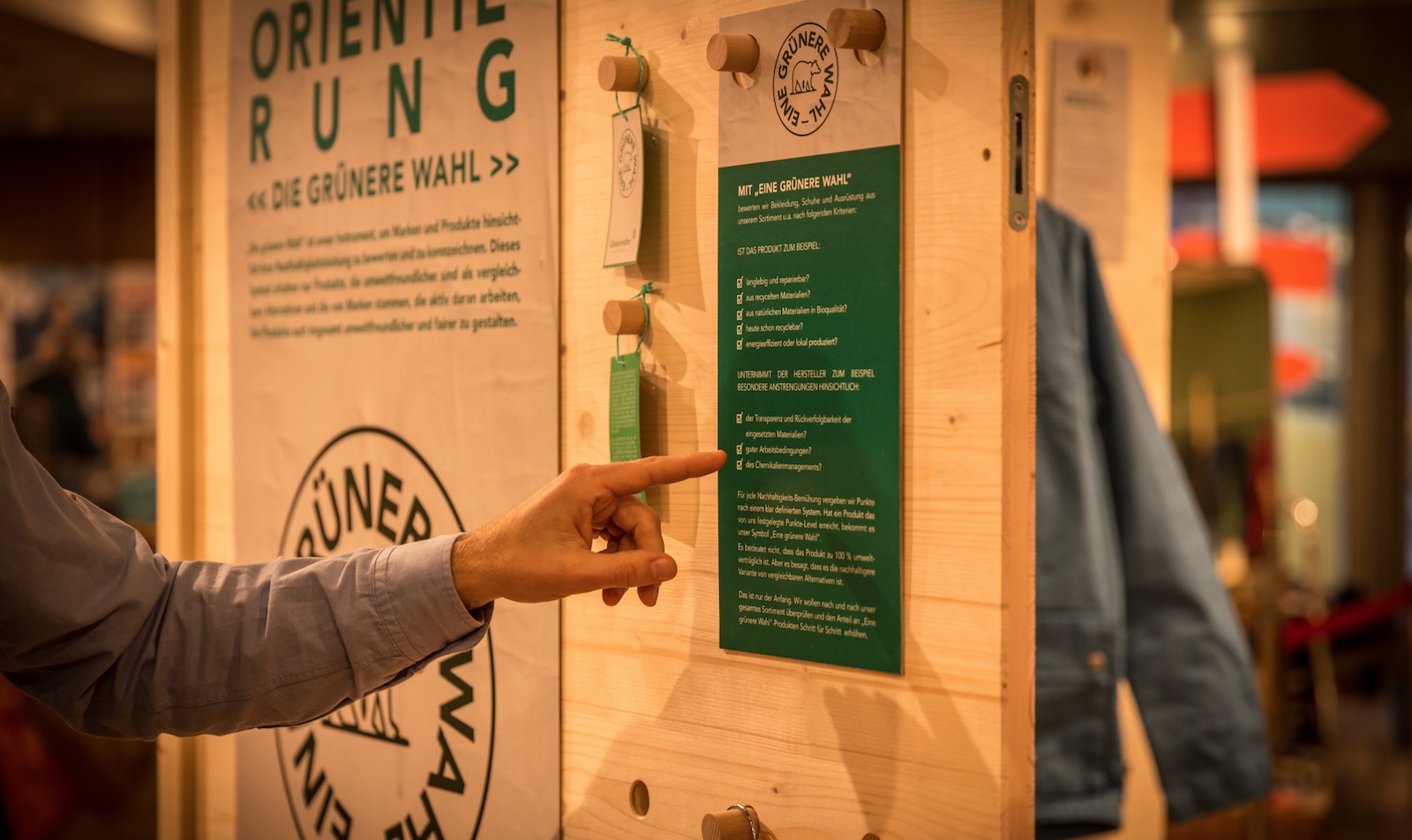 Fabian: Since many years, GreenroomVoice is doing showcases on sustainability at the two most relevant tradeshows in Europe, ISPO in Munich and the OutDoor Show in Friedrichshafen. GreenroomVoice is very experienced to create and conduct this kind of format, so it was an easy decision for us to co-create this exhibition with you. The focus of this work was the content of the exhibition and the trainings and dialogs.
Whilst launching A Greener Choice at Globetrotter, we have also worked on our criteria. The sparing and exchange with GreenroomVoice was important for us. You have an experienced eye and you are ideally positioned in the market, to help us getting the comprehensive insights we were looking for with the brands.
With A Greener Choice we have created an instrument, which looks at the most relevant subjects in sustainability objectively to make them visible.
Anna: It was great to visit all seven flagship-stores of Globetrotter with Fabian and to experience how different the regions react to certain subjects. Every city has its own attitude about them, in fact. When we create a showcase, we focus on making one subject in sustainability comprehensive and compact enough, so everyone has the capacity to understand the industry landscape. This is very similar to the request by Globetrotter to "explain" the most important subjects in sustainability and give an overview to customers, stakeholders and staff.
It was very rewarding for us at GRV to prepare the subject for the end-consumer and to co-create this exhibition in such a compact format.
The dialogue with all three groups of stakeholders was enriching. We had people from the local canoe-club right through to politics. The staff, who are directly concerned with the products and their aspects of sustainability on a daily basis had very interesting points of view and experiences to share.
I was impressed by how many customers are already quite well informed before buying a product and I really liked to listen to their questions.
Once again I realized how important it is to work directly with retail, as retail is the face towards the customer who actually makes the buying decision to drive sustainability forward. Globetrotter commits to this task responsibly and thoroughly.
Fabian: There were many terrific moments. But one interaction stands out in my mind. It was in our store in Berlin. One member of the sales staff came to the dialogue with the customers and "other" stakeholders, since he had missed the session, which was dedicated for staff only. He actually took a very active and involved role during the dialogue, and his perspective, his point of view as a consultant, enriched all of us.
This made it clear again, how important it is to cooperate with everyone to achieve more sustainability. We have all the possibilities in our hands, we just need to connect the "bits and pieces" and get on the way.
Fabian: Our aim is to assess at least 80 % of our assortment with a clear focus on new products entering our assortment. Of course this will take some time. Until 2020 we strive A Greener Choice to make up 25% of our sales. We set this as a first sustainability milestone.