William started his career as a free rider in Verbier 12 years ago and has always been involved in a sustainable approach. He is now showing the paradox of professional skiing in his movie "Antagonist". Leaving the Alps for the Pyrenees to take a different path, he is involved in local video projects making the best of the surrounding mountains.
– INTERVIEW –
Coming from the Alps, why did you choose to live in the Pyrenees? Considering the snow conditions in the future, it may seem a contradictory choice….
After several years in the Alps, I needed to get out of the mass tourism that unfortunately colonized too much of the Northern Alps. So I chose to return to the Pyrenees in order to find wilder valleys and the traditional way of life of the southwest that will never get lost.
The quest for pow days remains the holy grail for you today?
To connect with the previous question, certainly, powder snow remains the best (and even more so for filming) and the Pyrenees bring less of these kind of conditions, but for me it is not the main thing. What I like most is to be with my skis in the mountains…
To adapt to climate change, you say that we need to enjoy skiing in a less ideal snow?
That's right. In any case, from my point of view, what makes me happiest is that I already have the chance to be able to do what I love, all winter long, namely to do sports, be in the mountains and slide on all the snow that Mother Nature makes available to us.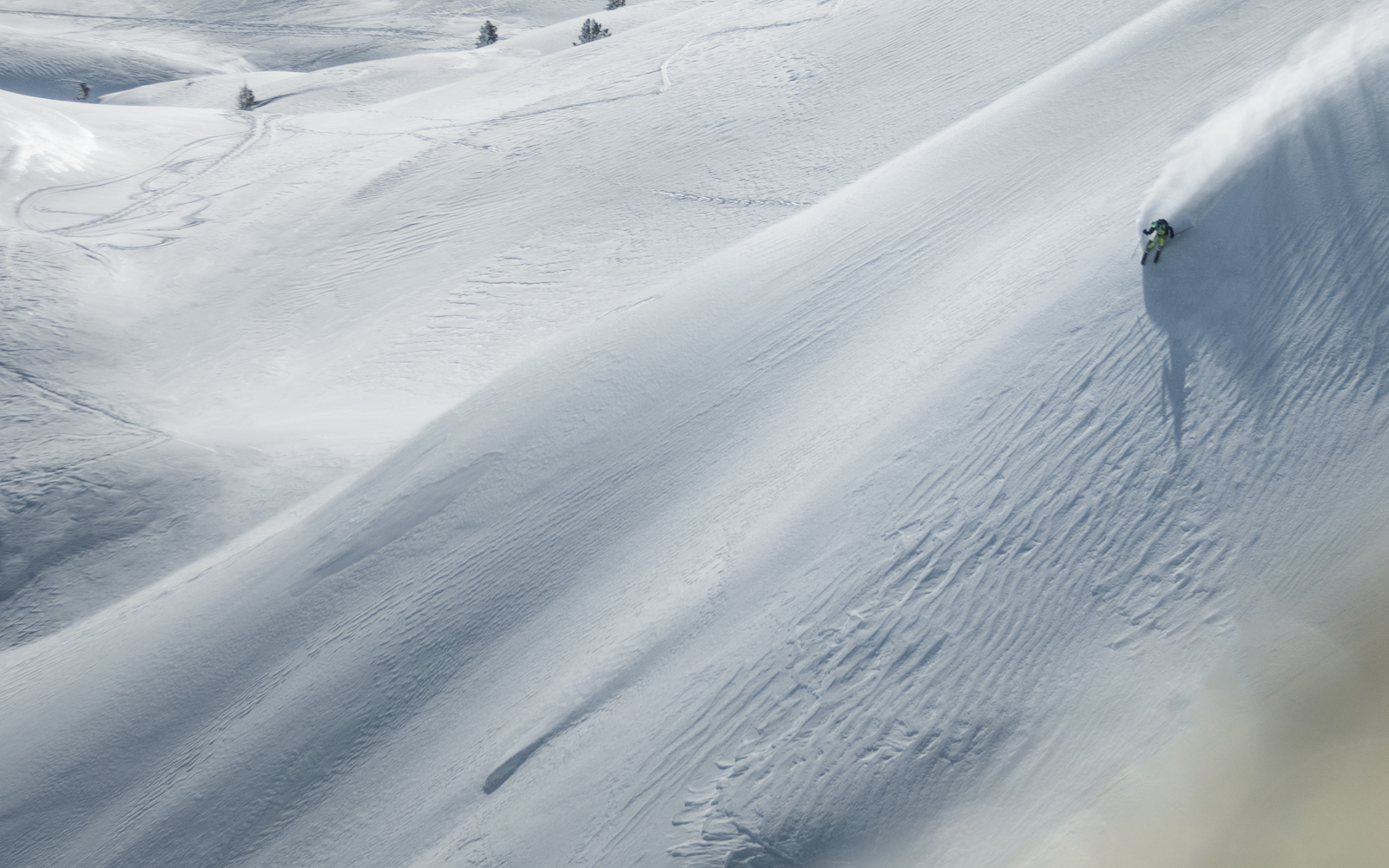 William Cochet, bioskieur, free skier and film director. #vaude
To what extend do you think, has the success of a athlete to do with his choice of material?
I don't think we need to consume as much as we do in order to become a better skier. It's also the case with other sports, we don't need all this material to surpass ourselves. It is the system we are in right now that wants to force us to consume more to be the best. But training at home with only one piece of equipment has already proven its worth. My intention is to use as little equipment as possible, i.e. to go to the end of the product's life before changing it. As a result, I only have one piece of equipment for a specific use.
How do you motivate others to follow in your footsteps ?
I will tell them about the beautiful glaciers that I was able to ski, and that we will no longer know…  because of the carbon footprint, we create with the very activity: skiing. So let's try to do as much as we can in our daily lives and continue to preserve our winters as long as possible.
You choose humour as a way to raise awareness about environmental issues, do you favour a particular subject?
The subjects I like to talk about more often are those related to our daily lives: food, travel, banks, energy… It's the way we spend our money that we will find solutions to climate change, but we also need to find the right source of information. That's why I started to talk about mountains and try to get involved in deeper subjects. Food, banks, power generation, the web… And for me, the return to the land, the fact of cultivating one's garden makes it possible to slow down everything in one's life, to return to real values that were those of barely half a century ago!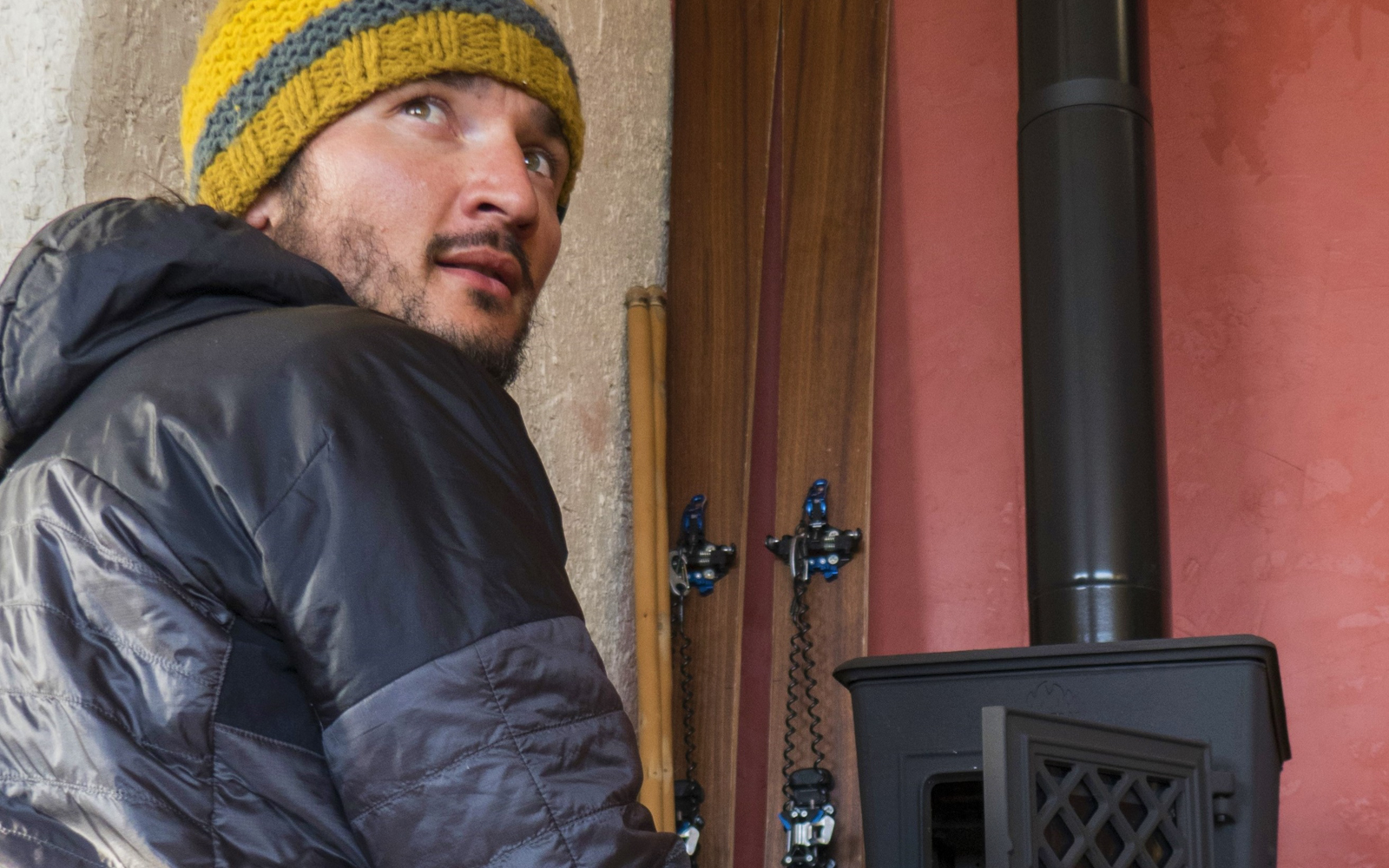 William Cochet, bioskieur, free skier and film director. #vaude
So travelling is not mandatory for a pro skier?
It still seems crazy to some of our audience, but until now, even in the most difficult winters, there were still enough good snow conditions at home to make them dream a little. So what better way to show, that we don't always need to look for better snow elsewhere… It is precisely to explain that there is no need to increase your carbon footprint by travelling far, by consuming more, to be able to enjoy the mountains. Each summit is unique, each corner of a valley is unique.
What is the Bioskier's business model today?
I can live simply during winter time with sponsoring and from my farm and agri tourism during the other part.  And yet, social networks push us to visit other places. Today, I produce 80% of my fruit and vegetables for the year and in the summer I sell them. It is quite easy to store canned vegetables like tomatoes, ratatouilles. Or frozen foods like green beans, courgettes and carrots, celery etc in the sand. For beans and fruits i prefer drying them. I am not a vegan but I eat little meat, once a week, from my friends and neighbouring farms who work properly with the animals. I also have chickens for the eggs of course and a dog to watch them, and take to the mountains with me.
Do you think to stop travelling is a type of action that everyone can apply, starting with the professional scene?
Yes. I think we prove it with every movie we release. It's just a matter of digging a little deeper into your head to find some great stories to tell about home rather than on a distant road trip.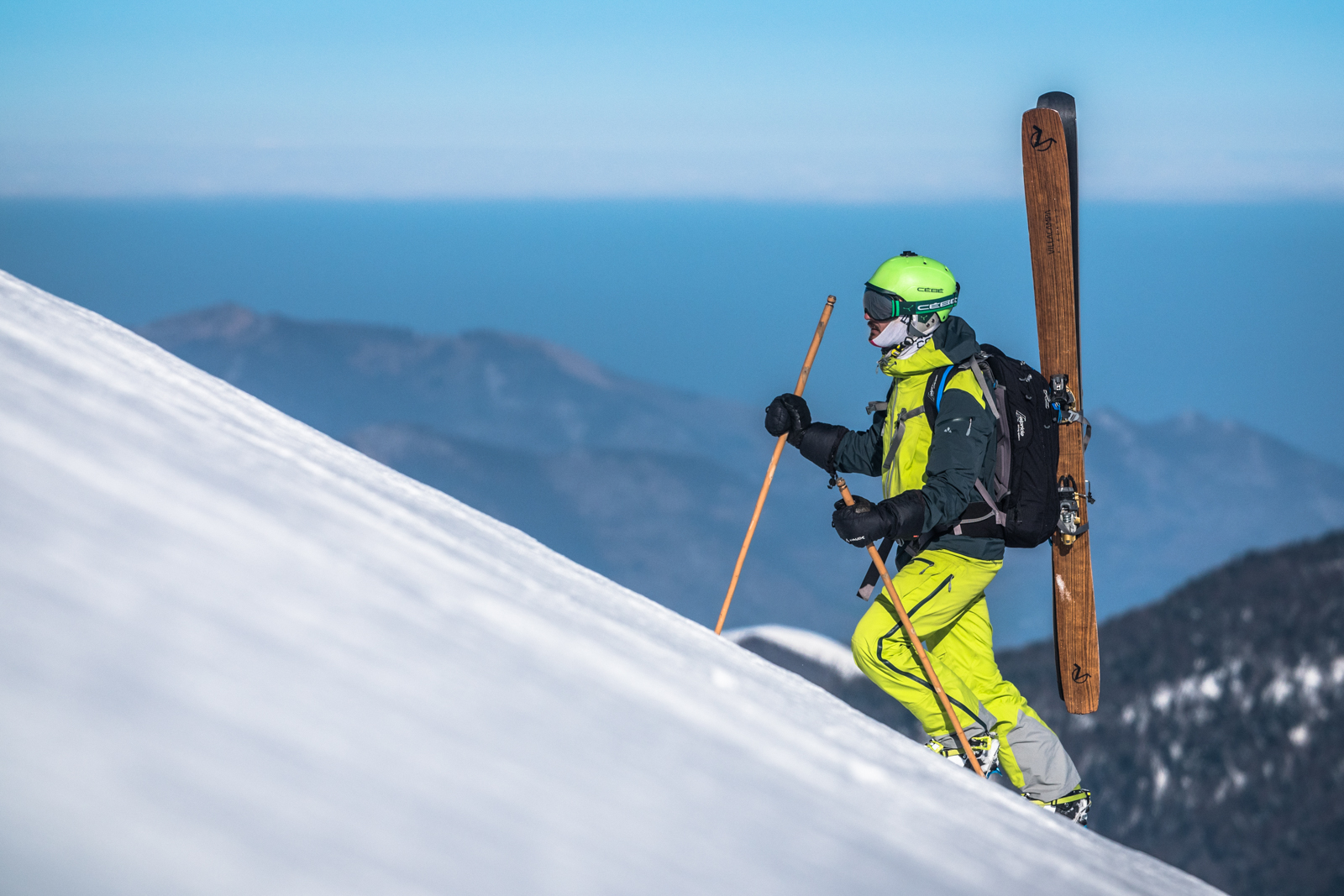 William Cochet, bioskieur, free skier and film director. #vaude
What are your sentiments about the disappearance of glaciers world wide, but also in the Pyrenees? And can you feel that in your region? 
It induces sadness, I think! Even if on a larger scale, the water cycle is increasingly modified, but this is still not very visible here.
You favour brands that work with local materials as much as possible. But is this approach actually possible, given the way many technical products/garments are manufactured?
My state of mind has always been to do everything possible to reduce my carbon footprint in everything I do. For the very particular case of technical clothing, the best gear today is still partly manufactured in Asia, but the example of VAUDE with whom I work, I know that we share the same values and that they are amongst the few who do their upmost to link their products and the environment. VAUDE is always on the forefront of new technology and have a hands on approach to lower the ecological and social footprint. Not only at home but especially in the countries that they are producing in, for example in far east. Often they are the movers and shakers for uncomfortable subjects in the industry and show by leading by example that it is possible to improve and still be financially successful. It's not always easy to take this more responsible path, but I see this more conscious way of life as a deeper calling and I feel so does VAUDE.
How did the opportunity to work with VAUDE came along?
The opportunity to work together came from my research on brands that are truly committed to the environmental impact of their company. That's how I contacted them and our mindset quickly bonded.
Is there a particularly piece of clothing that you prefer and why?
I really like the Shuksan Jacket for its modern style and its high mountain technicality while remaining a Vaude GreenShape® and socially responsible product!
Green Shape® is VAUDE's own scheme, for the selection of the most sustainable resources and technologies available. And since VAUDE are real pioneers, these are very impressive.
For example, in this jacket, the robust, stretchy shell material consists up to 95% of post-consumer recycled polyamide. The PTFE-free Ceplex Green membrane is based on recycled polyurethane with S-Cafe®, which is manufactured from used coffee grounds. Additionally the lining is made from 100% recycled polyester.
The awareness about microfibers that rub off clothing during washing and drying is raising. VAUDE found a good solution for their Fleece jackets to reduce this impact. Which one of the new VAUDE Tencel fleece jackets you are wearing?
I really appreciate the Shuksan Fleece Jacket from the same collection as the technical jacket I just spoke about. Its special feature is the construction: 100 % (recycled) polyester is used on the smooth outer surface. The inner, napped surface of the knitted fabric isn't made from polyester (as with conventional fleece), but from 100 % wood cellulose fiber. This fiber is biodegradable – even in salt water! So if micro fibers are shed from the napped lining of the fleece during the washing process, they can biodegrade in any environment in about 90 days, without leaving a trace behind and without endangering any living organisms. That is a huge step in the right direction!
Do you have an anecdote, an adventure you experienced related to this equipment?
Last year, it was very cold for most of the winter and for our last film about Savoy and Valle d'Aosta, we sometimes waited a lot outside, especially in the freezing fog hoping for the sky to clear to be able to find our way on a hike. I was very happy that day to have the right equipment once again…
Are you preparing new films in the Pyrenees?
Yes, we're embarking on quite an adventure over the next two years. The aim is to tell the story of the first mountain people and skiers in the Pyrenees by making reconstructions with equipment they were using back then… It will be another way to show that simplicity works in the mountains.
"Put on a sweater, heat less, these are my hints to change the world". Is that sentence sums up your vision of the issues that concern us, or should do?
Absolutely, the stakes are not so complicated in the end, we just have to calibrate our vision of comfort in a different way. Things have already changed so much since the time of our grandparents who practiced polyculture without ever having any leisure time. So let's just be more sober and efficient and we will reduce our impact to use only one planet instead of the 3 and more, like we do today….
More info : Bio Skieur