Nestled in a small grove of trees in the sleepy German town of Bönnigheim, is a seemingly inconspicuous cluster of buildings, wherein groundbreaking, extremely in-depth research in the textile industry is taking place and being organized.
Hohenstein is a family owned business offering a variety of textile testing, research, certification, and consultancy services to textile brands throughout the supply chain. Their in-depth global research has allowed for the establishment of a wide array of certifications and standards. The certifications fall under two general categories: 'Textile Testing' as well as 'Life Science and Care' well know labels of Hohenstein are Quality Labels', 'OEKO-TEX®', and lastly, 'UV Standard 801'.
Hohenstein Quality Labels are a system of different labels which are designed to give a peace of mind to the consumer when purchasing textiles.
Instead of being required to navigate through the tricky world of sustainability in the textile industry and conduct their own research, a consumer can instead simply check for the named labels, knowing that each label has been verified by meticulously designed tests to ensure superior quality in its respective products.

The popular OEKO-TEX® certifications were designed to serve both brands and consumers. They cover the entire supply chain and can be combined to provide a holistic view on a product. Take an outdoor jacket for example; the down filling, thread used for seams, and zipper could all be 'STANDARD 100 by OEKO-TEX®' certified, meaning that all ingredients have been tested for containing potentially harmful substances. The leather trim on the jacket could be 'Leather Standard' certified, providing the same assurance as the 'STANDARD 100' certification, however, for leather products. While these two certifications are also tailored towards the consumer, our hypothetical jacket would still contain many pieces which have certifications created for suppliers.
For example, the dye used for coloration or chemicals for fabric finishes can be ECO PASSPORT by OEKO-TEX® certified, providing "chemical manufacturers with independent proof that their chemicals, colorants and auxiliaries are suitable for the manufacture of textiles that are safe for human ecology and environmentally friendly production in accordance with OEKO-TEX® principles."
These certifications come together to provide an insight into products which go far beyond the surface, for both brands and for consumers.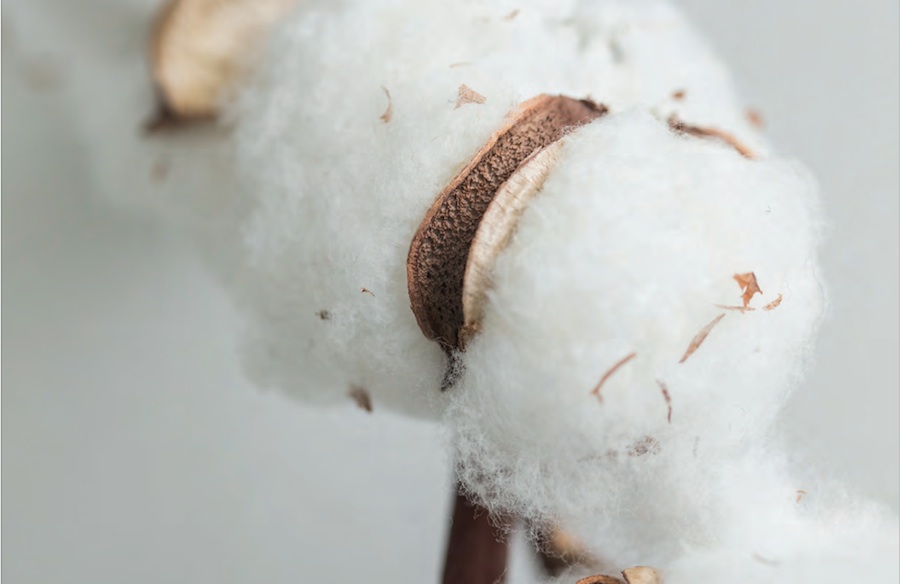 In addition to the three certifications mentioned above, OEKO-TEX® also has the 'STeP by OEKO-TEX®' certification which ensures sustainable textile and leather production and offers their traceable 'MADE IN GREEN by OEKO-TEX®' label to textiles which have been: produced from materials that have been tested for harmful substances, produced in environmentally friendly facilities, and produced in safe and socially acceptable workplaces. Hohenstein also conducts extremely thorough research on UV resistance in textiles under all sorts of conditions. Their research has allowed them to create the 'UV Standard 801', which accounts for delicate skin types and the most powerful UV index, accurate protection through the standard.
Whatever testing or inspections a brand desires for their products, Hohenstein will almost certainly be able to offer it. While emphasizing their biodegrability testing at this year's OutDoor by ISPO, they will also feature some of their other services, from washability testing to GMO cotton testing – a necessity in order to be verified as 'organic cotton'. Beyond testing individual products, Hohenstein conducts facility examinations as well, checking everything from chemicals being used to wastewater and industrial sludge.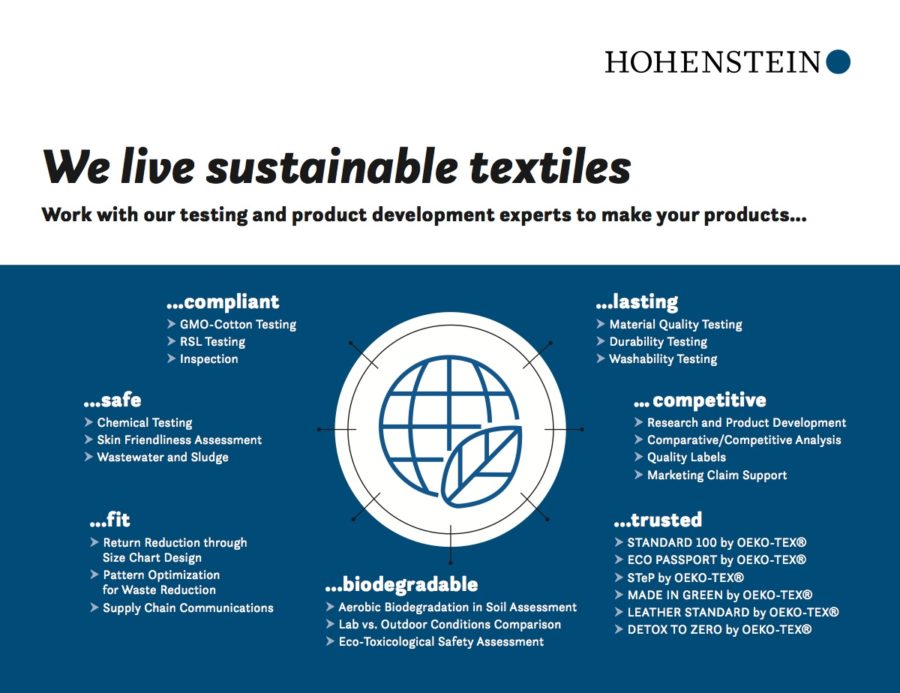 ---
Monday 27-01-2020 @ 11:00am Sustainability HUB – HALL A2

---
Representatives of brands and organisations will be there personally to speak about their projects, product and achievements. If you are curious about the latest developments in this exciting and challenging field you are welcome to join us!
DAILY GUIDED TOURS: 
Sunday 26.1.2020 : CleanDye, Dyecoo, myclimate, Nikwax, PrimaLoft®, Re:Down, R*Concept
Monday 27.1.2020: American Wool, DuPont, Freudenberg, Hohenstein, Südwolle Group, Textile Exchange
Tuesday 28.1.2020: Allied Feathers and Down, Bergans, Fluidsolids, lavalan®, HDWool, NZero, VAUDE