Re:Down® is a supplier of recycled down for numerous brands in the outdoor industry. We started to present Re:Down® on our showcase for the first time in 2015, when we looked into down products and alternatives. This year recycled down is ever so suitable to contribute to the subject of material solutions.
#biobased and #biodegradable
Recycling down enhances the lifespan to an already natural product and contributes to an overall positive ecological balance. As the freshly released Life Cycle Analysis conducted by myclimte states: with every kg of recycled down, 125 l of water are saved! This is 74% less water use with recycled down.
The challenges which arise from recycled materials, like chemical contamination with unidentified substances are handled through an extensive and well conducted washing process, which leaves the down in an immaculate natural state.
Hear all about Re:Down® at their presentation on Sunday the  26th of January at the guided GRV Transparency Tour at 11.00 am.
Down and feathers are a precious gift from nature. It looks fragile but it is durable. Though the resource itself, the supply, is fragile due to our mass consumption habits. It is up to us to take care of it.
Re:Down® recycles down and feathers extracted from post-consumer goods so that they can be re-used as filling material in apparel, sleeping bags or bedding products. Re:Down®, offers only down and feathers from post-consumer goods, with no new animal input, which means, that the raw material does not come from slaughter houses.
"On behalf of Re:down, myclimate evaluated the calculation of water consumption in the production of down for the filling of bedding and apparel. The goal of the study is to understand water consumption in the production of new down fill material compared with the water consumption in the production of recycled down fill material.
The comparison method was based on the approach of the Life Cycle Assessment methodology and considered the processes farming, slaughtering and further processing of the down. Among other things, it was important to apply the correct allocation with regard to meat and feathers / down to the animals."
As the process of recycled down does skip farming and slaughtering, where the majority of water is used, approx. 100 litre water can be saved per kg of recycled down. But also during washing of the down, recycled down saves another 25% of water, because fewer washing cycles are needed. In summary 74% of water can be saved with every kg of recycled down in compassion to virgin down.
The management of textile trash is one of the big challenges for all developed countries. Just in Europe, we estimate the amount of annual textile waste to 7.500.000 tons! Down and feathers filled products are only a fraction of this but still an enormous quantity.
Today Re:Down® recycles 97% of what they collect but their target is: zero waste! Broken feathers and down fibers are up-cycled into a very efficient organic fertilizer. The fabric shells (around 30% of the total weight) are chopped into small pieces and end up in non-woven insulation.
Water can be an issue in recycling. But the Re:Down® recycling process use far less water when reprocessing the down, then washing virgin ones, because the raw material has less fat residues compared to virgin down. On top of that, raising more animals and operating slaughter houses uses a substantial amount of water, which Re:Down® has no part in. The used water from the specialised washing process goes through a water recycling system and is sent back to earth as clean drinking water.
Re:Down®'s recycling process uses no chemicals. The sterilisation happens through high temperature. And during washing Re:Down® only uses soap. Even for the special water-resistant finish, we exclusively use an ecological FC free formula. Last but not least, 30% of the electricity used in the factory is produced by solar panels. The aim is to bring it up to 70% in the coming years.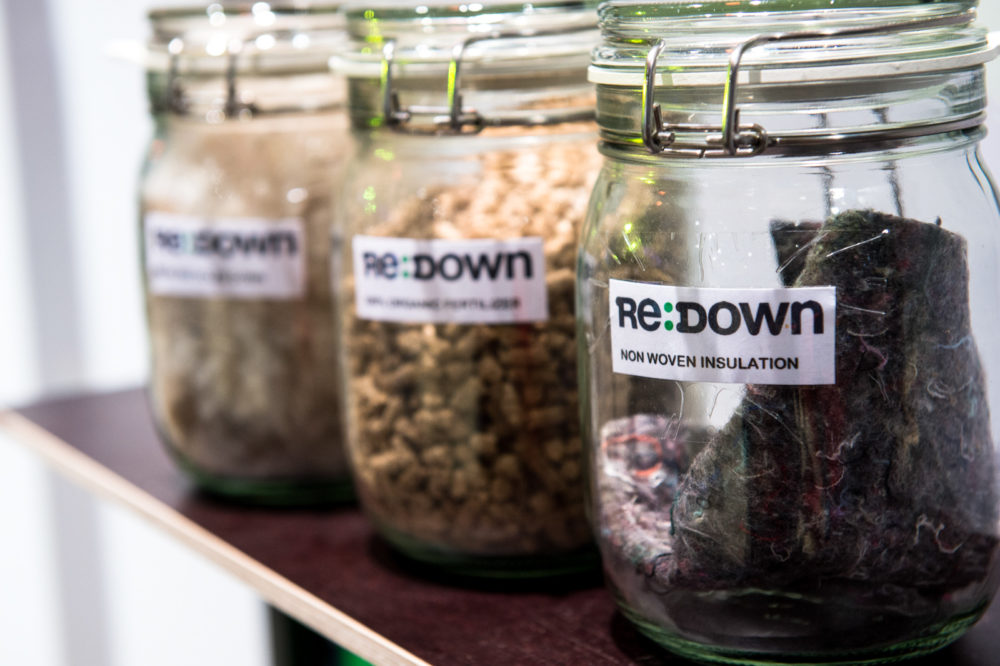 Re:Down® offers a large range of recycled filling materials, from 100% feathers up to 90%down/10%feathers:
Re:Down® Water-Resist is a treatment developed by the brand to make the down water-repellent so it absorbs less moisture, dries faster and keeps its loft and thermal properties even in wet conditions.Re:Down® Water-resist is an ecological formaldehyde-free recipe with no fluorine.
Founded in 2016 in USA, 
Re:Down® offers 
innovative
 and 
sustainable
 solutions 
for
 down
 insulation, 
based 
on 
up cycled
 post‐consumer 
goods.
 Re:Down® was co-founded by Eric Firmann and Tae Hwang, both having 20 years of experience in the textile industry. Re:Down® collects those old post-consumer products mainly from textile waste collectors in Europe before they end up in the landfill aiming to create a positive change for the environment providing alternative solutions to virgin down.

www.re-down.com
---
Sunday 26-01-2020 @ 11:00am Sustainability HUB – HALL A2

---
Representatives of brands and organisations will be there personally to speak about their projects, product and achievements. If you are curious about the latest developments in this exciting and challenging field you are welcome to join us!
DAILY GUIDED TOURS: 
Sunday 26.1.2020 : CleanDye, DyeCoo, myclimate, Nikwax, PrimaLoft®, Re:Down, R*Concept
Monday 27.1.2020: American Wool, DuPont, Freudenberg, Hohenstein, Südwolle Group, Textile Exchange
Tuesday 28.1.2020: Allied Feathers and Down, Bergans, FluidSolids, Lavalan, HDWool, NZero, VAUDE