This is the second year we are running our showcase on bio-based materials and it is interesting to see more and more suppliers of very innovative technologies with sustainability at heart participating. CO2 dyeing is a dry process with short batch cycles, efficient dye use and no waste-water. While here we are not really talking about bio-based materials in the usual sense of the word, it still is a fitting match- for the lack of waste and process chemicals usually associated with dyeing!
#innovation
DyeCoo is the world's first commercial and industrial proven textile dyeing solution, which is water-free and process-chemical free. The CO2-based dyeing process makes textile dyeing clean, sustainable, efficient and profitable.
Meet them personally at the guided GRV Transparency Tour on Sunday the 26th of January at 11.00 am– Sustainability Hub, Hall A2.
Based in the Netherlands and with extensive knowledge in design and engineering of CO2 equipment, DyeCoo provides a clean textile processing solution on industrial scale.
ZERO WATER | CIRCULAR
DyeCoo uses it's patented technology to dye fabrics with supercritical CO2 instead of water. The technology uses CO2 (a by-product from the industry) as the dyeing medium, in a closed loop system. 95% of the CO2 is recycled in the machine for re-use.
PURE DYES
CO2 dyeing does not need process chemicals to dissolve dyes. When pressurized, CO2 becomes supercritical, a phase between a liquid and a gas, the CO2 has a high solvent power, allowing the dye to dissolve easily. The dyes are transported deeply into the fibre. The technology uses 100% pure dyes, with more than 98% uptake there is almost no waste.
ZERO WASTE WATER
No processing chemicals, no water and therefore no wastewater treatment is necessary.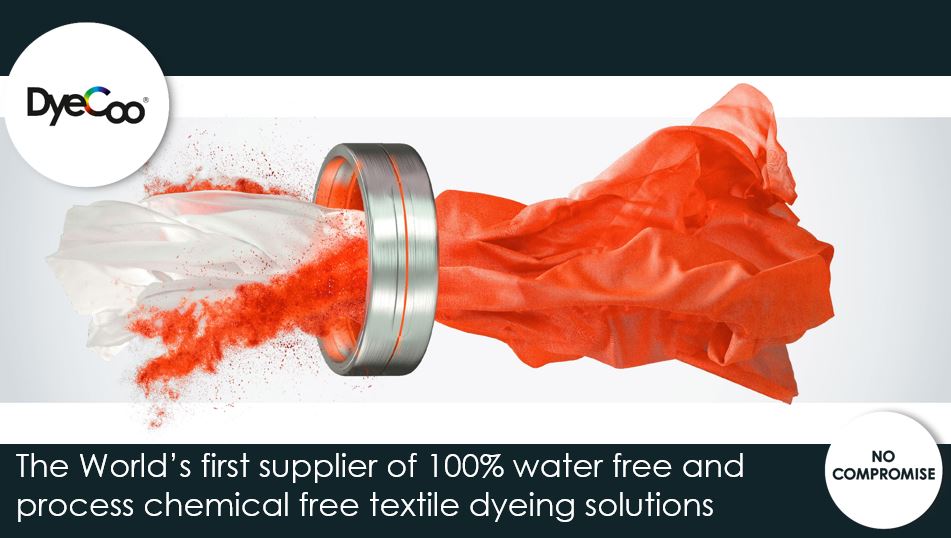 LOWER PROCESS COST
CO2 dyeing is a dry process with short batch cycles, efficient dye use and no waste-water. All contributing to significant reduced operating cost.
VALUE
The CO2 dyeing machines are available for polyester dyeing for fabric or yarn. The impact for one DyeCoo machine is saving up to 32 million litre of water and 160 tons of processing chemicals per year in comparison to conventional dying processes. The total dyeing capacity for one CO2 dyeing machine is 800 tons of synthetic substrate. The polyester textile market volume is approximately 50 million tons and this demand is still growing.
GOLDEN TRIANGLE
Besides the environmental and circular benefits, DyeCoo believes CO2 dyeing technology can be the 'linking pin' within the textile supply chain. It is their vision to work in close collaboration with the suppliers and brands to reach common goals of getting a sustainable & circular textile supply chain.
TRUSTED CUSTOMERS TO DATE
This is an industrial proven technology, now running the generation 4 dyeing systems. With multiple customers in Thailand (Tong Siang, Yeh group), Taiwan (Far Eastern New Century, Eclat, Formosa Taffeta, LiCheng) and Vietnam (Cleandye), there is CO2 dyeing capacity for more than 11 million kilo's of polyester per year.
To grow the availability of CO2 technology within the textile supply-chain, the support, commitment, trust and collaboration with Brands is important.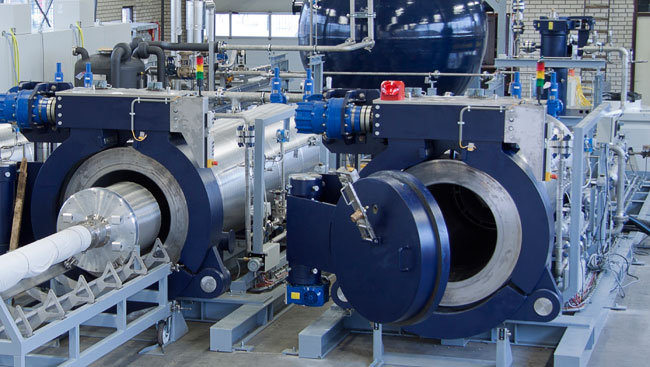 ---
Sunday 26-01-2020 @ 11:00am CSR HUB – HALL A2

---
Representatives of brands and organisations will be there personally to speak about their projects, product and achievements. If you are curious about the latest developments in this exciting and challenging field you are welcome to join us!
DAILY GUIDED TOURS: 
Sunday 26.1.2020 : R*CONCEPT, DyeCoo, myclimate, Nikwax, PrimaLoft®, Re:Down
Monday 27.1.2020: Sicomin, American Wool, Freudenberg, Hohenstein, Südwolle Group, Textile Exchange
Tuesday 28.1.2020: Allied Feathers and Down, Bergans, Fluidsolids, NZero, HDWool, Lavalan, VAUDE