Quite often synthetic materials are used to insulate clothing, whereas nature already delivers highly functional raw materials.
lavalan® wool insulation offers several insulation solutions with a proportion of wool as high as 85%. Initially used for mattresses, lavalan® unique combination is now used as inner layer in outdoor sports apparel.
Rather than being worn close to the skin as with most Merino wool apparel, lavalan® is designed as a natural, environmentally friendly alternative to the synthetic wadding normally used inside quilted garments. It combines the unique properties of virgin wool with the easy-care features of corn-based polylactic acid (PLA) fibres.
Wool is one such natural "high-tech" fibre and possesses a number of advantages:
Wool is able to uptake and release moisture vapour up to 36% of its dry weight, while being water-repellent at the same time. This makes lavalan highly breathable, quick drying and keeps you warm even when wet or sweating. Since wool is thermoregulating it also provides a cooling effect and prevents one from overheating even during intense exercise or unexpected warm weather conditions. So wool is able to always deliver comfortable, cozy warmth regardless of activity levels or altering temperatures.
Another important aspect is the odour neutralization. Since wool wicks moisture away, it can never build up the bacteria that causes bad odours, for a longer use without unpractical wash cycles, i.e. during travels, outdoor adventures and several-day mountain trips.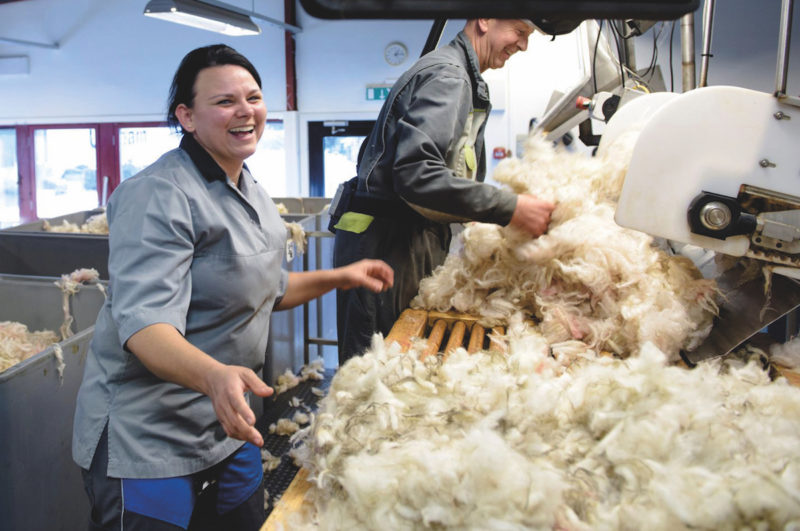 The wool is solely sourced from European countries after highest quality and animal welfare standards. The sheep graze in the idyllic surroundings of the Austrian and Swiss Alps and they are kept under natural conditions on pastures in Germany, France and Scandinavia. European wool naturally is mulesing-free. For lavalan® it is crucial that no sheep are tortured, neither during breeding nor the shearing process.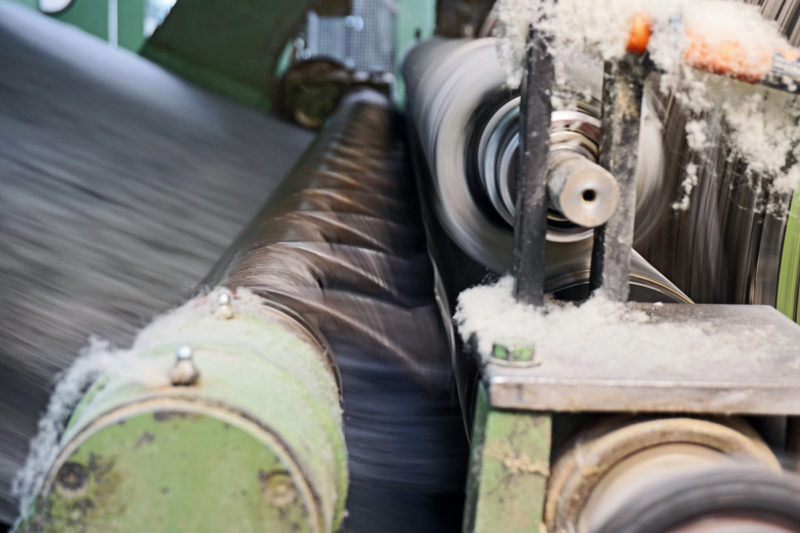 Sheep farmers supply their freshly shorn wool to so called collection points where it is sorted by color and quality and pressed into bales. Afterwards the wool gets scoured at traditional plants in Belgium and the United Kingdom. Plant residues, sheep dung and lanolin are removed in order to get the clean, soft and consistent lavalan wool filling. Back at Baur Vliesstoffe in Germany about 60 experienced employees with a knack for wool take care of the subsequent lavalan production. The independent Swiss company UniqueTrace certifies the supply chain, so the origins of the wool can be proven.
In order to match the distinctive requirements for various fields of application (e.g. workwear, active wear, gloves, skiwear, etc.), lavalan® has been developed in different weight categories and qualities: lavalan® sport, lavalan® plus, lavalan® pro, lavalan® stretch and for bedding.
lavalan® sport comes with the highest portion of wool fibers within the lavalan® product family (85% average) which results in the most functional wadding. The higher the part of virgin wool the better non-wovens perform in the areas of insulation, temperature regulation, moisture management and odour resistance.
lavalans® wool insulation also comes in a dark brown version. It is mainly used in order to avoid undesired see-through effects in case of translucent shell fabrics. No need to mention that brands aiming for a pop of luxury appeal also tend to use the dark brown colour version.
---
Tuesday 28.01.2020 @ 11:00am Sustainability HUB – HALL A2

---
Representatives of brands and organisations will be there personally to speak about their projects, product and achievements. If you are curious about the latest developments in this exciting and challenging field you are welcome to join us!
DAILY GUIDED TOURS: 
Sunday 26.1.2020 : CleanDye, DyeCoo, myclimate, Nikwax, PrimaLoft®, Re:Down, R*Concept
Monday 27.1.2020: Sicomin, American Wool, DuPont, Freudenberg, Hohenstein, Südwolle Group, Textile Exchange
Tuesday 28.1.2020: Allied Feathers and Down, Bergans, Fluidsolids, HDWool, Lavalan®, NZero, VAUDE