Wood to wear? Yes, it's possible! For its Winter Collection 20/21, the outdoor specialist VAUDE is once again offering textiles made from biodegradable fleece fabrics with wood cellulose.
This jacket has two main components. The outside fabric is made from robust recycled polyester and the soft and brushed inside is made from biodegradable cellulosic fibers. This represents a good balance between technical and environmental performance and addresses the risk of shedded micro particles during washing and drying with fleece fabrics in a very smart way.
Meet VAUDE personally on Tuesday the 28.1.2020 at 11.00 am – GreenroomVoice Showcase, Sustainability Hub A2
The Women's Elope Fleece Jacket is a small contribution toward fighting the growing problem of plastic waste in our environment and the perfect choice for hiking and trekking with a clean conscience especially when all you want to leave behind is a good impression.
Back in the fall of 2017, the first biodegradable fleece from wood cellulose was presented for VAUDE's visionary Green Shape Core Collection. As a pioneer in the field of sustainability, VAUDE has featured this wood fiber-based fleece in its program since the Winter Collection 2018/19 and is driving the development of this revolutionary substance forward. Up to now, washing clothing made of synthetic fibers (especially polyester and polyamide) has involved releasing microfibers into the environment. VAUDE wants to stop this flood of microplastics with the development and promotion of new, sustainably innovative fleece materials.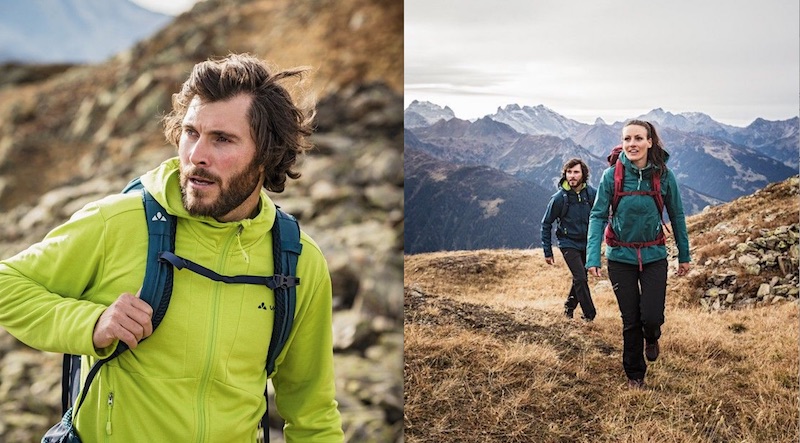 The special feature of this biodegradable fleece fabric is its construction. Recycled polyester is used on the smooth outer surface. The inner, napped surface of the knit fabric isn't made from polyester (as with conventional fleece), but from the 100 % wood cellulose fiber Lyocell – and this remains undyed! This fiber is therefore 100 % biodegradable – even in salt water! If microfibers are shed from the napped lining of the fleece during the washing process, they can biodegrade in any environment in about 90 days, without leaving a trace behind and without endangering any living organisms.
The fabric combines all the advantages of high functionality with environmental protection, because this natural performance fiber has excellent temperature regulating and moisture transporting properties. It is absolutely skin-friendly and a perfect choice for anyone with allergies. The silky soft inner surface with high loft fiber pile is both warm and non scratchy. Athletes especially will appreciate the fabric's antibacterial properties – in contrast to polyester, sweat odors are reduced, so the fleece needs to be washed less often.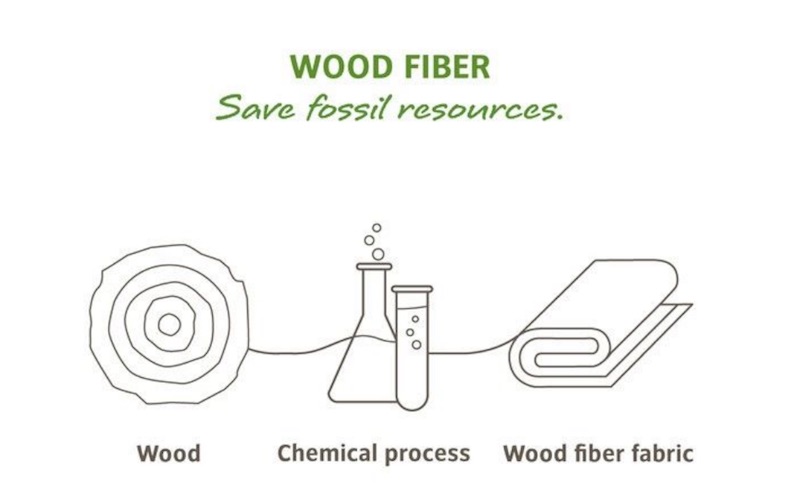 The Women's Elope Fleece Jacket consists of cellulose fiber Lyocell (38 %) on the inside and recycled polyester (62 %) on the outside. This smoothly soft fleece jacket is suitable for all kinds of outdoor activities and is the perfect choice for any hike from fall through spring. Naturally, this comfortable fleece with hood is a cozy choice for the 9-5 as well as all outdoor adventures. It will be available in the colors Cranberry, Mars Red and Turquoise Riviera in Fall 2020 – for now only in a women's version.
In all of our textiles, the VAUDE Green Shape label stands for environmentally friendly, functional products made from sustainable materials. About 90 % of all VAUDE Apparel bear the state-regulated textile seal "Grüner Knopf" (green button) that was launched in the fall of 2019.