"Basically we do everything to get rid of ourselves." Says Antje, when asked on how she sees the future of our beloved outdoor business.
In line with the "Green Week" at Globetrotter, we have asked the most important of all questions on the subject of sustainability: Can companies be "sustainable" or even act and do business in a future-oriented manner in the current infrastructure and politics? And who could answer this question better than Antje von Dewitz, who with VAUDE repeatedly shows how far a company can go when sustainability is understood as an investment in the future.
Antje von Dewitz and her team have received more awards and accolades in the area of sustainability than any other German company. Most recently the "Entrepreneur of the Year Award" from Ernst and Young in the "Sustainability" category. What's the motivation? Why is it possible for VAUDE what seems so inaccessible to many? How does VAUDE manage to be completely climate neutral by 2022? Where do they get the time and the drive to get involved in projects that are beyond VAUDE again and again, which is also reflected in the "Common Good Economy" balance with a high rating? And are the new circular economy-oriented business models economically liable enough?
To be able to pose these and other key questions of our time to Antje von Dewitz personally is not only an honor, but also an incredible opportunity to face the urgent issues of the future- together.
Listen to the new Podcast – a good opportunity to practice your german 🙂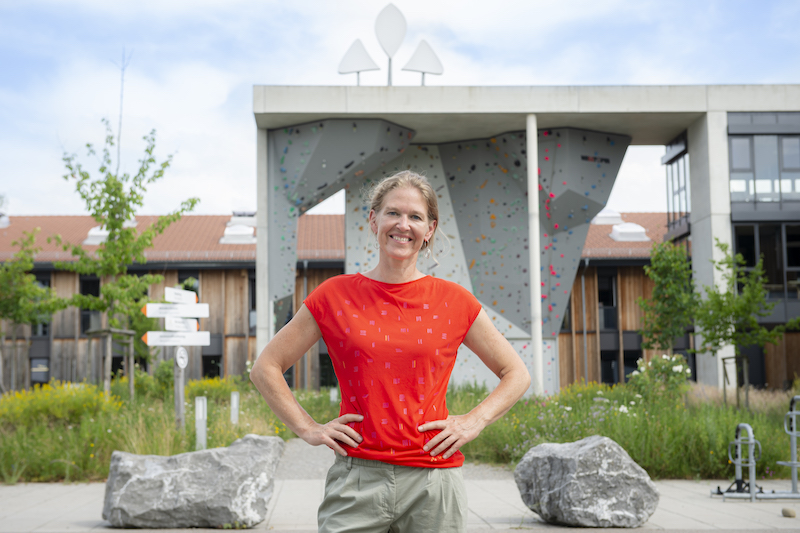 In 2009 Antje von Dewitz took over the management from her father Albrecht von Dewitz, who already laid the foundation for the company's ecological and social responsibility. As managing director, she has consistently transformed VAUDE into a thoroughly sustainable company. She continuously advocates ecological and social responsibility in supply chains – not only at VAUDE, but also on a national and international level. She advocates that companies also take responsibility for people and nature. That is why Antje von Dewitz supports the approach of the Common Good Economy (GWÖ), whereby entrepreneurial success is measured not only in terms of financial profit but also in terms of contribution to the common good. As an ambassador for the GWÖ, she advocates a rethink in the economy. In doing so, Antje von Dewitz proves that a sustainable company can also be very successful economically. In the highly competitive outdoor market, VAUDE has been growing above average for years.
Antje von Dewitz is a board member of the Federal Association for Sustainable Economy (BNW), Deputy Chairwoman of the Board of Trustees of the German Federal Environmental Foundation (DBU) and Vice-President of the European Outdoor Industry Association (European Outdoor Group / EOG). The entrepreneur has received numerous awards for her economic, social and ecological commitment, including the Vanity Fair Changing Your Mind Award (2020), the TRIGOS Prize for Sustainable Business (2019) and the Order of Merit of the State of Baden-Württemberg (2017).
"Time is running out. Climate protection must have the highest priority and we must now act with all our might, the facts from climate science tell us very clearly. «
Antje von Dewitz, CEO VAUDE