EXPED is a Swiss expert in adventure gear production, such as sleeping mats, pillows, sleeping bags, liners and booties. Since its beginnings in 1983, EXPED's sustainable core principles have been durability, reliability and repairability. First as a distributor and then in their own products. When looking at the general decarbonization in global supply chains, EXPED is measuring CO2 emissions with myclimate and is investing into climate protection projects to take responsibility for the emissions, which can not jet be reduced or avoided. Designing for Circularity is a key aspect to reduce emissions directly in Exped's supply chain.
#AdventureGear #ClimateProtection #Circularity
Meet Muriel Weber, CSR Manager from EXPED personally at OutDoor by ISPO
What: GRV Guided Transparency Tour
When: Sunday, June 4th, 2023 – 11am
Where: SUSTAINABILITY HUB/ Munich Order Center- Atrium 3- 124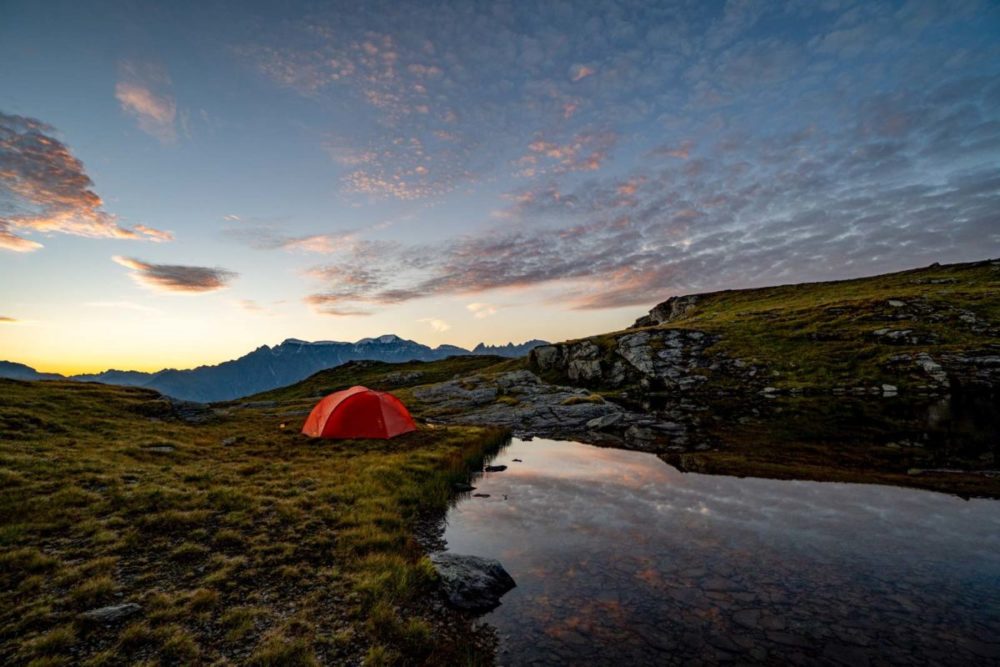 For EXPED, fostering long lasting relationships, ongoing communication and cooperation with the partner factories, as well as careful selection of materials, components and resources used in production, are all essential components on the journey of becoming a climate neutral business. The Swiss outdoor equipment company is always looking for solutions to keep their CO2 footprint as low as possible. Their first concrete action to reduce CO2 was to replace virgin polyester with a recycled version, already in place in sleeping mat production, as well as the first line of backpacks.
In 2022 EXPED's sleeping mats, pillows, sleeping bags, liners, booties and the operations are already considered climate neutral.
What emissions cannot be avoided in the production process are offset with myclimate an internationally operating non-profit foundation with Swiss roots, a leader in voluntary CO2 offsetting measures.
"The maximum outdoor experience with minimal means. The ultimate goal, to be one with nature." Andi Brun- Founder.
In 2021 EXPED's mats were the first, and only, climate neutral mats on the market. Tents, backpacks, gear bags, stuff sacks, and the accessories are in the process of finding climate neutral processes as well. Currently 70% of EXPED's products are classified as climate neutral, the goal being 100% of EXPED's products by 2024. In partnership with myclimate, EXPED analyzes and quantifies the footprint of their product range and the company. Thus, allowing them to find opportunities for reduction and improvement measures. Through this analysis and implementing lower carbon solutions to the production process EXPED offers a diverse line of climate friendly products for outdoor adventures with their launch of the first climate-neutral product category.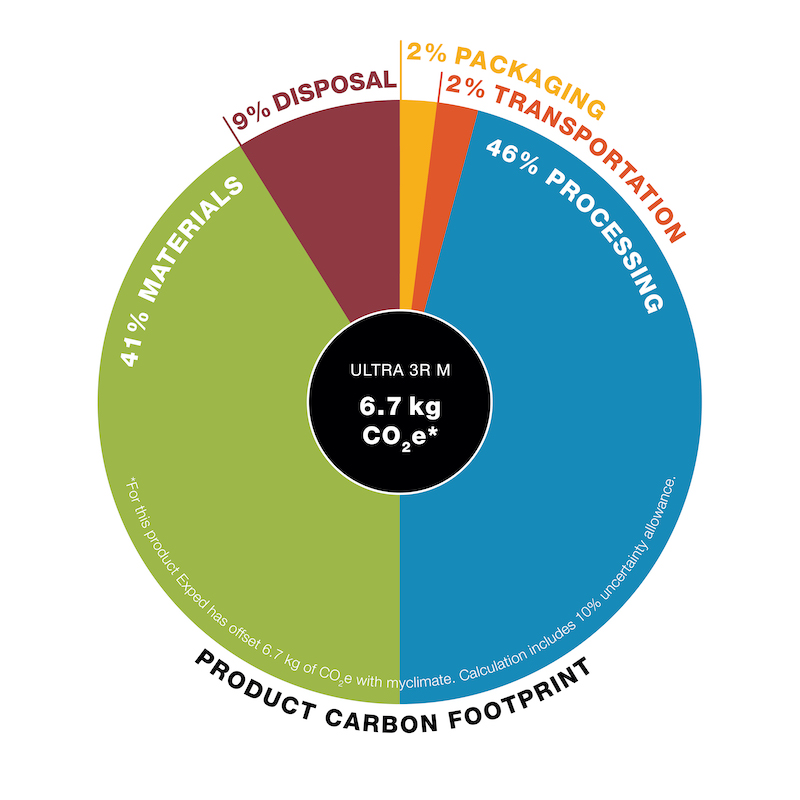 Looking at the Ultra 3R M mat as an example allows us to understand the distribution of the CO2 footprints across various steps of the value chain. In determining values in each step of the process EXPED has a been able to have direct impact in the reduction of CO2 throughout the production process. To addresses the consumer impact phase EXPED makes the most of the lifecycle of each product by producing durable materials and offering a repair service in cooperation with second-hand retailers such as 2nd Peak in Zurich.
The most energy intensive processes in production includes – spinning, weaving, laminating and welding, weighing in at 46% of the overall footprint. Therefore, utilizing production facilities powered by renewable energies, or encouraging transition to renewable energies in existing factory partnerships, will massively reduce carbon footprints. Ultimately these transitions would pave the way towards keeping global warming at bay with 1,5° as stated in the Paris Agreement.
Processing is followed by 41% of CO2 totals is attributed to raw materials processes. To produce raw materials numerous steps are involved in the process of transforming crude oil into synthetic raw materials. These processes account for various emissions that are ultimately calculated as CO2 equivalents to understand environmental impact. To replace crude oil with recycled material considerably reduces CO2 emissions in this step of the value chain. As a transition Exped has already done most mats and some of its backpacks.
Transportation only makes up 2% of the whole CO2 burden, but for many people, especially consumers, this is the first level of understanding CO2 emissions. Though a small number, it is an important factor to keep in the conversation.
Packaging is where EXPED truly shines. The circular cardboard (recycled and recyclable) and the very minimalistic design is an active part in reducing climate impacts.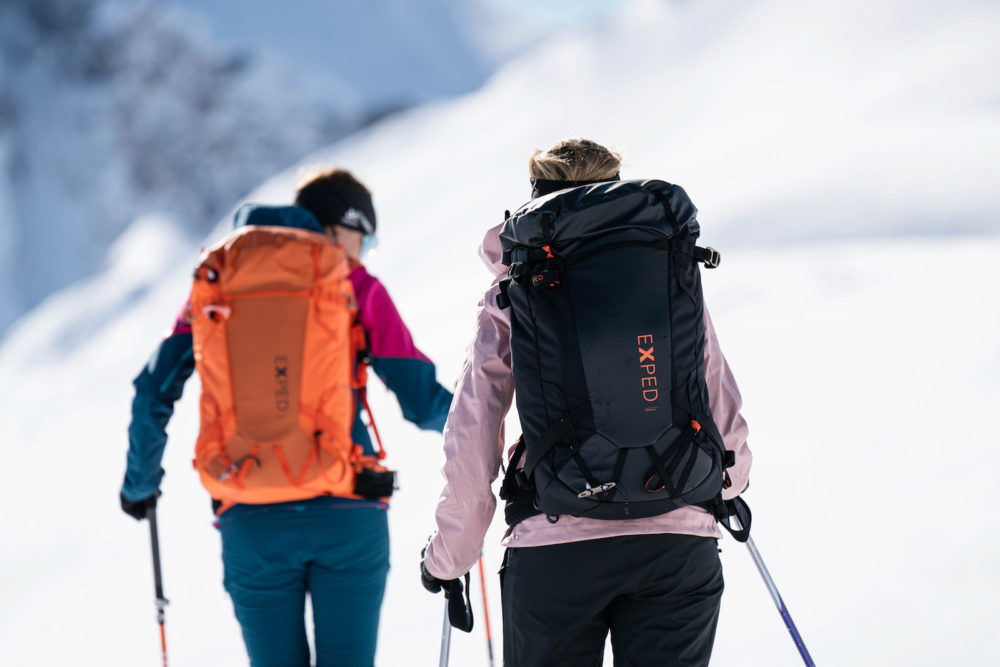 The emissions caused by Exped products are offset through the myclimate carbon offset platform supporting "Protection of Tanzanian Forests for Indigenous Peoples, Wildlife and the Climate". This project funds the reduction of deforestation in Tanzanian forests. Beyond the ecological benefits, this project helps to safeguard habitat connectivity for various wild animals, as well as higher economic security for indigenous populations in the region.
The area is home to the Hadza, hunter-gatherer people, and the Datooga, pastoralist community. It is also the habitat of hundreds of bird species and endangered mammals such as the African elephant and giraffe.
The EXPED-supported project involves strengthening the enforcement of the approved village land use plan. This is done by deploying patrol teams to monitor illegal land use and poaching. Wildlife is also monitored using smart technology, and training is provided. Revenue from carbon credits supports anti-poaching, wildlife monitoring, education and medical care for all community members.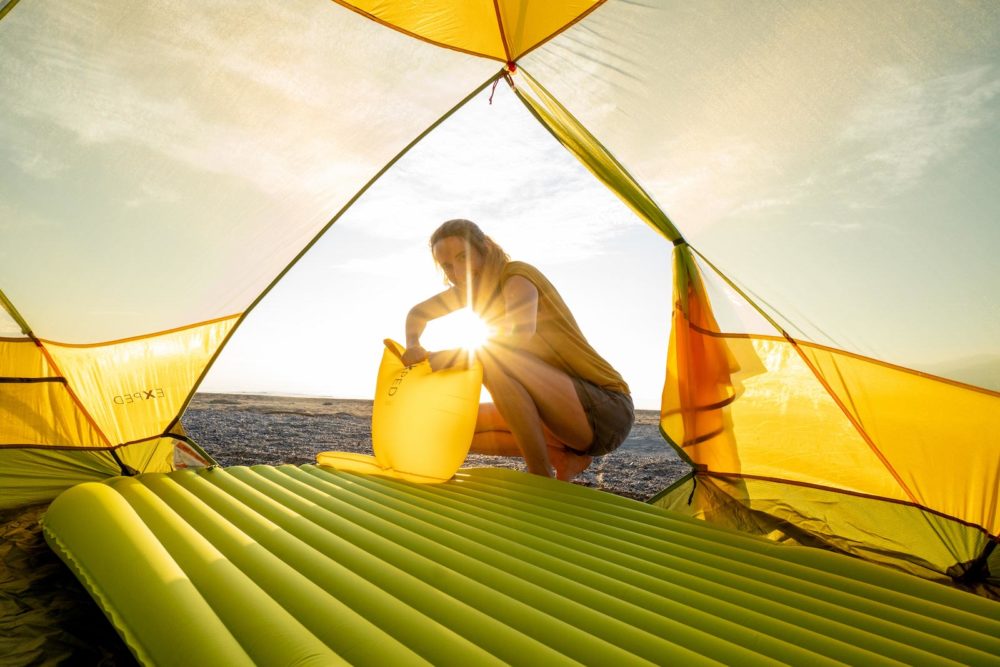 myclimate is an internationally operating non-profit foundation with Swiss roots, a leader in voluntary CO2 offsetting measures. With projects of the highest quality, myclimate promotes climate protection and sustainable development. A CO2 balance at product level (product carbon footprint) is an application of the life cycle assessment (LCA) methodology that focuses specifically on greenhouse gas emissions.
For a climate-neutral product, all climate-impacting emissions along the life cycle are taken into account. This means from the production of raw materials, to use of the product, all the way to end of life – disposal or recycling. Through myclimate, EXPED can calculate the number of CO2 equivalents (global warming potential) and thereafter offset through investment in high quality myclimate carbon offset projects. The computation of a carbon footprint with myclimate also enables one to recognize current output levels and set reduction goals or processes in place.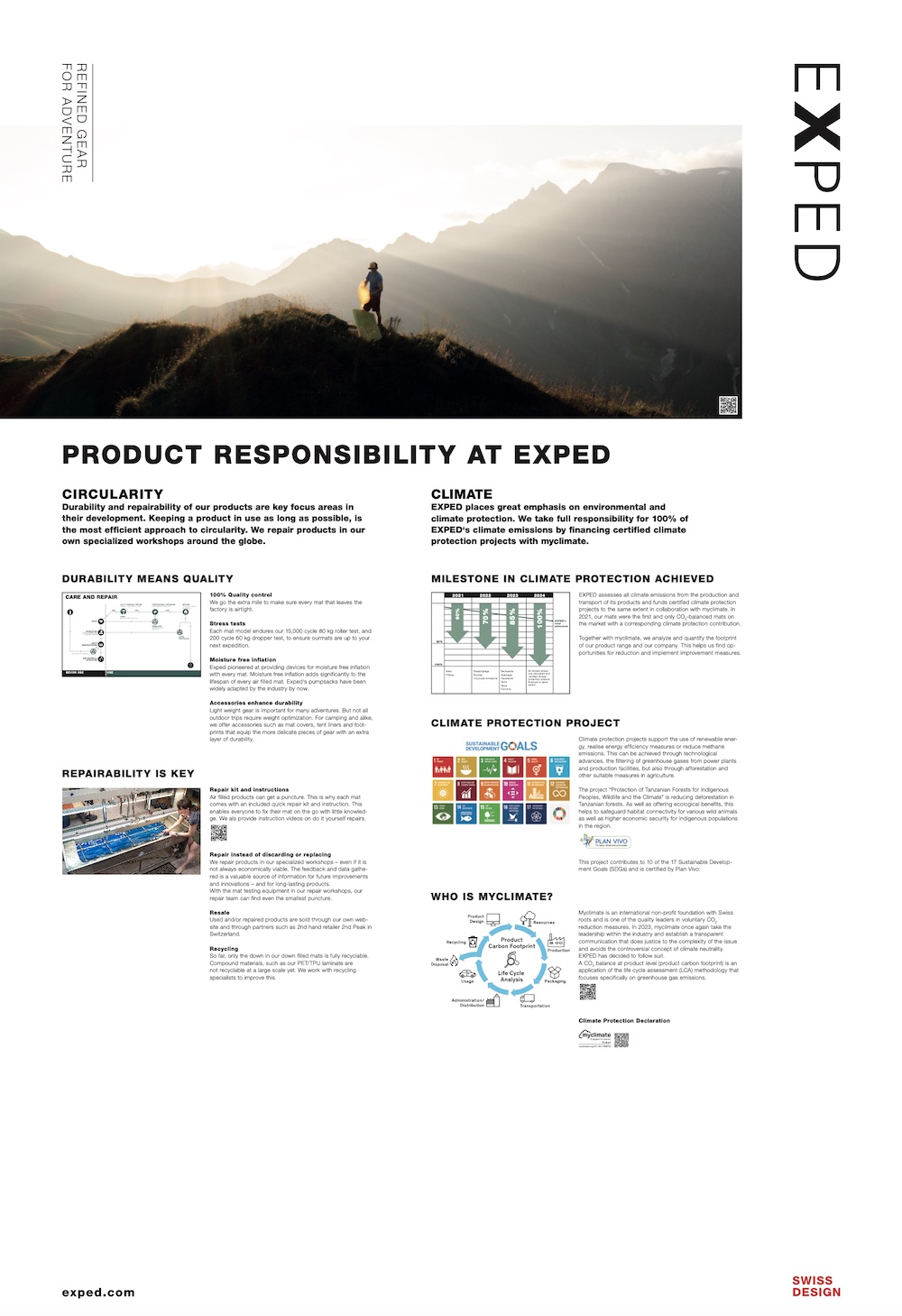 Share your experience and meet pioneers.
You can connect with these exhibitors personally:
June 4th, 11 am: Exped, Rab/Lowe Aplin, Re:Down, Sympatex
June 5th, 11 am: Globetrotter Ausrüstung, Grüner Knopf (GIZ), Hohenstein Institute, lavalan®, Mountain Equipment, Picture Organic Clothing
June 6th, 11 am: Iteratif, Heimplanet, myclimate, Südwolle Group, VAUDE