The temperature is rising – more and more people in the outdoor community choose to take a stand. Cira Riedel from Suston's collaboration partner Greenroom Voice shares how an activist camp changed her vision of the ocean – and what needs to be done. Photos by Saltlake_Lian
Activism used to scare me… It felt so dangerous, unbalanced, and wild. Like the 21-year-old woman trying to stop on oil-tanker with her kayak.
I admit feeling indebted to activism after having worked in the field of sustainability for a decade, as it is the activists who point out what needs to change in society. But I also must admit having felt overwhelmed and alarmed by the crazy lunatics chaining themselves to trees.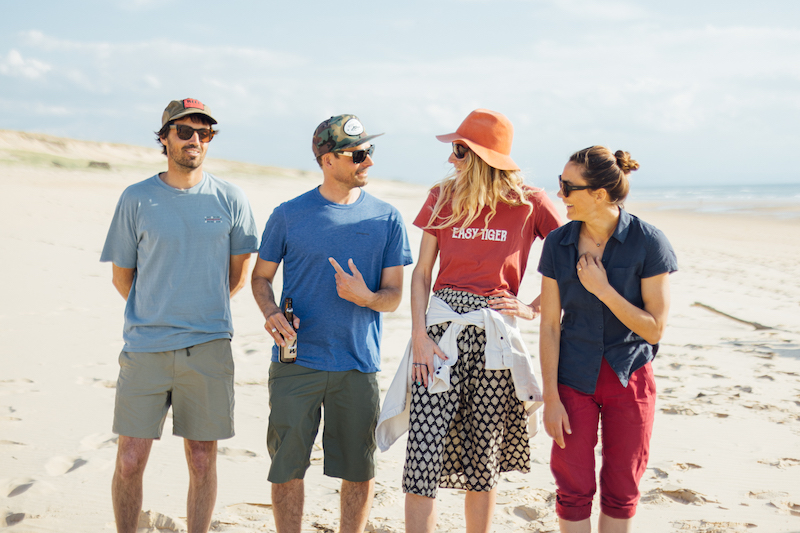 The activists I met at the Patagonia Surf Impact Camp, however, were not what I expected. They were deeply touching, gentle, sophisticated, and so full of passion and energy. It took me a full week to come down to earth after having shared the same space with them for only three days.
On the initiative of Gabriel Davis, former surf pro out of the UK and now Patagonia's Ocean Marketing manager, Patagonia initiated this camp to support initiatives that want to create a positive impact in and by the surf community. The main focus is addressing preservation and protection of the ocean, as well as the concerns about toxic ingredients used in wetsuits.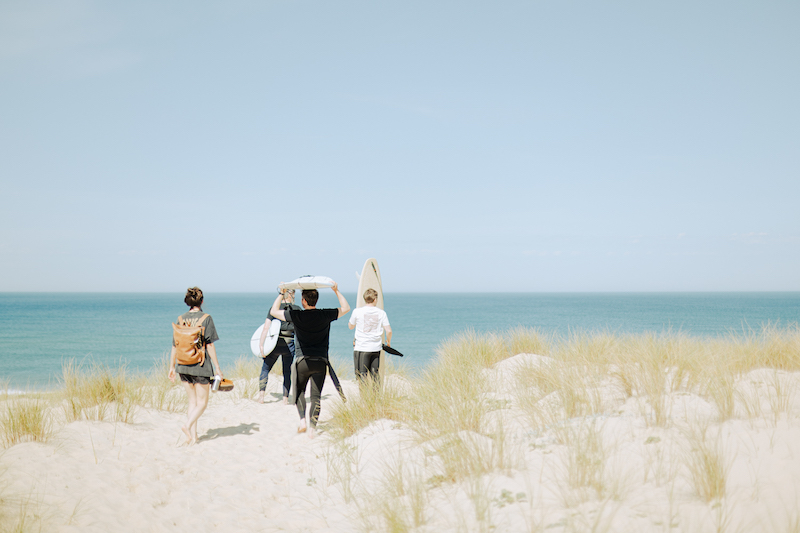 The camp was held at Ocean Shelter, a private campsite in the southwest of France known for its powerful and consistent beach-breaks. About thirty people attended the camp from different mainly UK-based NGOs, some representatives from surf brands, retailers, surf media, artists and of course activists.
I slowly realize that it is these kinds of people I owe the future of my kids to. These people who actually do what needs to be done. People who heal nature, who take their gloves off, who make it their daily business to do what we should all be doing, paying the due respect to the planet that provides for us like a loving mother.
Time is the only resource in our direct experience we cannot reproduce. Every hour we spend is a way of expressing what is important to us. A life spent to give future generations a chance to survive is a lifetime well-invested from my point of view.
Some of the people we follow during these days spend hours under water on a daily basis, wandering through seagrass meadows, studying kelp, learning, and teaching about the fragile balance of life, always amazed at the capacity of regeneration of nature, if we just "left it alone…"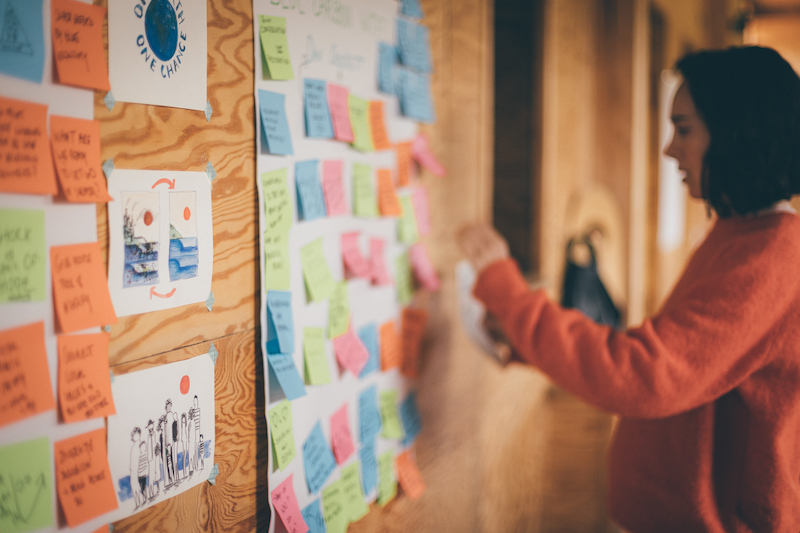 I reflect on my time shared with marine biologist Raquel Gaspar from Ocean Alive, who spent 20 years with dolphins and 15 years gliding through sea-grass. She would close her eyes, move and dance with the currents like one of the plants while speaking to us. She would then grow roots deep into the soil, which store carbon thirty times faster than any forest can. Being next to her is like meeting a mermaid.
Raquel teaches us that one acre of Sea Grass provides oxygen for about 180 people a year and can cleanse sewage for approximately 200 people a year. Seagrass also provides a sanctuary for about a quarter of all species of fish and it reduces 50% of the pathogens in the water.
Can we really afford to lose it? Remember: if we did, the carbon stored in the soil would surface and transform a formidable carbon sink into a gigantic carbon emitter.
Then there was the soft-spoken Dan Crockett at the Blue Marine Foundation, a surfing environmentalist. Dan holds an extensive knowledge of high-level Blue Carbon topics as well as a portfolio of local and global restoration and research projects, together raising millions for the regeneration of the ocean. Just listening to him made me feel like I was on a dive into the world beneath the surface, drinking in the knowledge that will help me to survive as a human.
On a scale of one for dead and ten for alive, the ocean (there is actually only one) is on a four.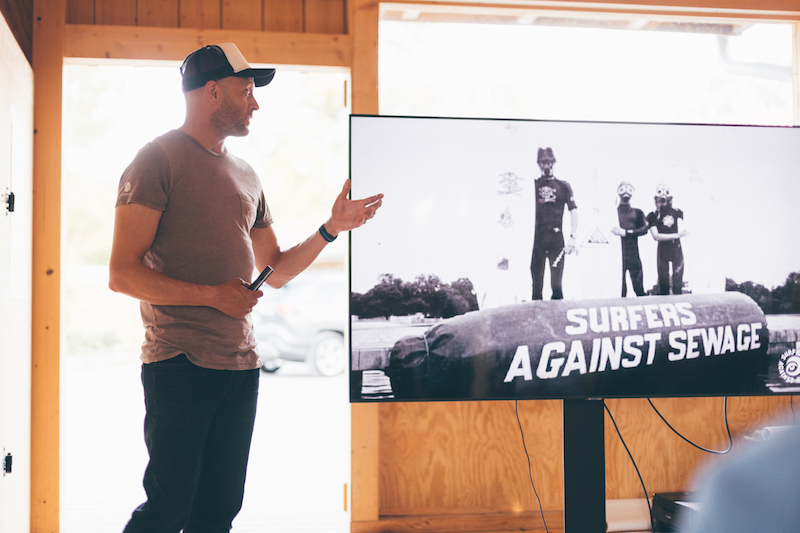 And what about Hugo Tagholm, who managed to create a career from cleaning up the ocean with Surfers Against Sewage. Shaking hands with royals and the "establishment" one day and marginalized grass roots activists the next, he overcomes imagined boundaries to make true change happen.
Before it was the activists who scared me, now it's the people who don't act that scare me more. This experience leaves me humbled and deeply grateful for the heroes that are actually out there saving future generations.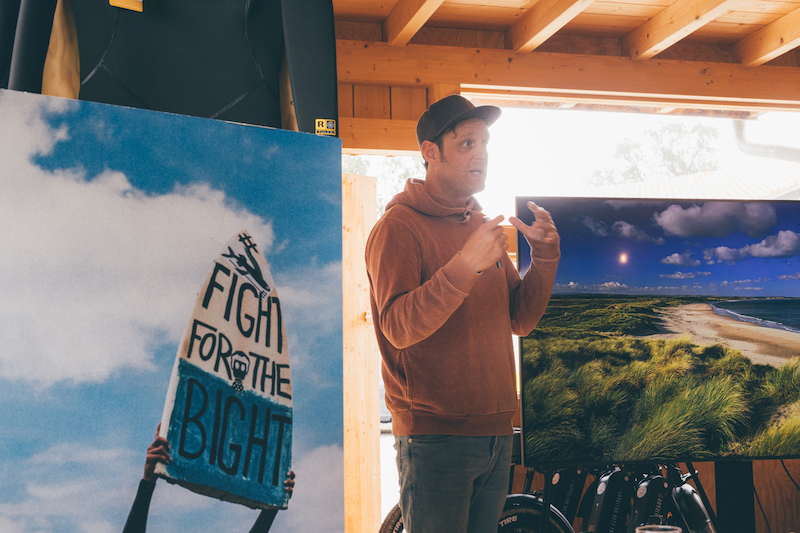 Surfers Against Sewage (SAS) is a prolific non-profit environmental organization based in the UK. Hugo Tagholm was the keynote speaker.
sas.org.uk
Blue Marine Foundation is a UK-based marine conservation charity that is dedicated to restoring ocean health by addressing overfishing and the destruction of biodiversity. Dan Crockett supports its project development directs projects on the high seas and in national marine parks.
bluemarinefoundation.com
Oceans Alive is an NGO working to support the "keepers of the sea" who are protecting the fragile saltwater Sado Estuary ecosystem and seagrass meadows. Raquel Gaspar is a Marine Biologist and co-founder of Ocean Alive.
ocean-alive.org