Watching the textile industry grow in collaborative sustainability initiatives gives hope to a more sustainable future for the industry. The Partnership for Sustainable Textiles (PST) is playing a significant role in this. The strong multi-stakeholder initiative is committed to a social, ecological and corruption-free textile and garment-industry.
#sustainablesupplychain #engagement # community #GIZ #BMZ
Meet Malena Reimelt personally at ISPO Munich 2022
What: GRV Guided Transparency Tour
When: Monday, November 28th, 2022 – 11am
Where: GRV Showcase/ Sustainability Hub- Future Lab Hall B2
A commitment to inspire an industry that promises to respect the rights of all workers, that protects the climate and environment, and operates with integrity and within the planetary boundaries, aligned with international agreements and guidelines (e.g. OECD, UN, ILO). These guidelines define a framework for corporate responsibility through principles of social, economic, and environmental responsibility.
All actors and stakeholders are needed to manage the transformation towards a socially and ecologically sustainable textile industry. For that reason, around 130 members from business, politics and civil society work together in the Textiles Partnership:

Member companies publicly demonstrate on a regular basis how they implement due diligence. With the review process, the Textiles Partnership has developed an implementation framework and a reporting format. That entails that companies systematically analyse and prioritise the risks in their supply chains. Based on the assessment, they set targets and derive measures to address these risks and to initiate improvements.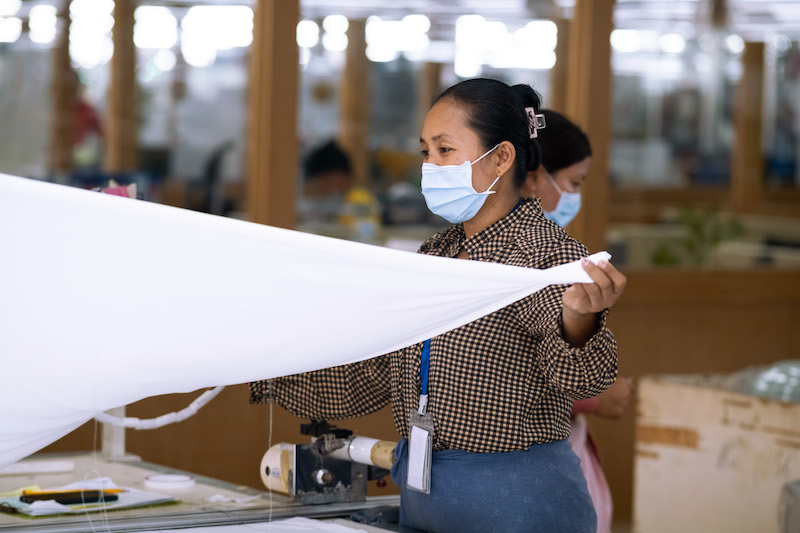 Knowing its own supply chain is crucial for companies to identify grievances, mitigate risks and initiate improvements. Creating transparency right up to the beginning of the supply chain is (still) a challenge for many companies. The Partnership members are taking up this challenge and gradually bring more transparency in the deeper supply chain.
The Partnership for Sustainable Textiles publishes an aggregated list of production sites and supplier data of its members at the Open Supply Hub. By those means, the Textiles Partnership contributes to publicly accessible, reliable platform for supply chain information and thus promotes transparency in the industry.
PST supports its members with information sharing, easy to digest factsheets, tools, workshops, peer-to-peer dialogue, and guidelines rs.
Through Joint Action, PST facilitates collaboration where members join forces in projects on-site in producing countries, achieving better results, and projects with a greater impact and reach.
Current Partnership Initiatives include:
• Living Wage Lab
• Wastewater management
• Effective complaints mechanisms
• Better working conditions for workers in Tamil Nadu
• Organic cotton projects in India

The German Federal Ministry for Economic Cooperation and Development (BMZ) and the Partnership for Sustainable Textiles launched a Call for Proposals to promote promising approaches to sustainable textile supply chains. The aim is to support Partnership members and other cooperation partners in fulfilling their individual social and ecological due diligence obligations in their own supply chains. Apply until 13th of February for a public funding.
Together with local stakeholders, you can apply with your project ideas on the focus topics. This is intended to promote the implementation of initiatives that have a developmental impact.
Joint Action in the Partnership means that several members join forces to create positive impacts in production countries, especially with regard to the four focus topics of the PST:
• Living Wages and Responsible Purchasing packages
• Circular Economy and Climate Action
• Gender Equity
• Grievances and Remedy

Share your experience and meet pioneers. You can connect with these exhibitors personally:
November 28th, 11 am: 2nd Peak, Bergans, Bluesign, Earlybird Skies, PST (Partnership for Sustainable Textiles), lavalan, Südwolle Group
November 29th, 11 am: Bluesign, Iteratif, Mounatin Equipment, myclimate, Sympatex, Textile Exchange, The Outdoor Institute
November 30th, 11 am: Bluesign, Icebug, Globetrotter, GORE-TEX, Patagonia, Re:Down, VAUDE