At the heart of the Future Lab Hall at ISPO Munich 2022, the Sustainability Hub was buzzing with energy. 45 partners exhibited their achievements, case studies and best practice on circular economy and climate action, underlined by trustworthy traceability and transparency.
At every Daily Guided Transparency Tour we had up to 70 + people showing up listening attentively for the hour long tour to learn and understand the multiple connections that are foundation of sustainability.
And how collaboration and growing network throughout the diverse topics of sustainability can bring us forward to create the industry we truly desire.
Sustainability is a team sport, and when the different topics and approaches are displayed in one showcase, the connections and (inter-)dependencies as well as the areas where work needs to be done become visible and tangible – and that was the true success of this year's edition of the Sustainability Hub.
With great pleasure we can announce that the applications for the Sustainability Hub at OutDoor by ISPO are already online! Due to its success, it will be in a very central position in the Atrium 3 just above the Entrance Hall.
Check out a review of the SUSTAINABILITY HUB by SUSTON – Sustainable Outdoor News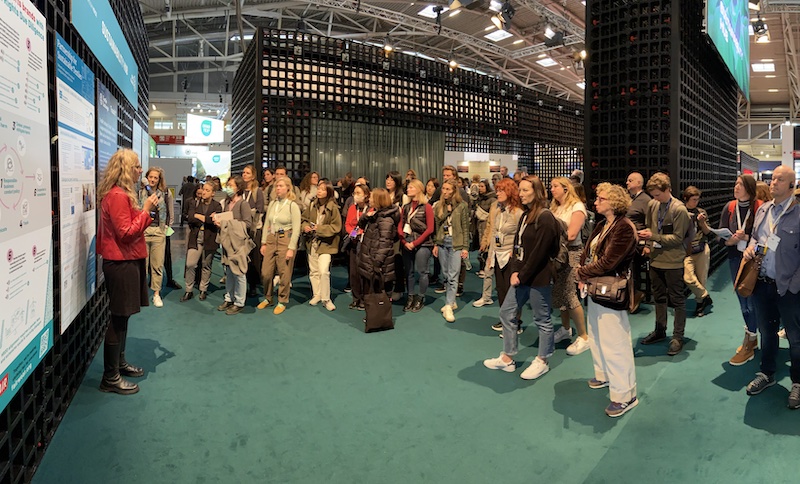 OutDoor by ISPO 2023
Jun 04 – 06, 2023
What our exhibitors say about the GreenroomVoice Showcase at the SUSTAINABILITY HUB
"It was amazing to be part of the Sustainability Hub and to present the Partnership for Sustainable Textiles. Meeting the industry and exchanging ideas with others is always fun. We loved to see sustainability at the heart of the ISPO Munich 2022 and were impressed by the great interest of the participants of the Guided Transparency Tours hosted by GreenroomVoice."
Malena Reimelt, Partnership for Sustainable Textiles.
"The Sustainability Hub at Ispo was the natural center of the fair and the Showcase presented by GRV an excellent and inspirational exhibition on what's going on within the Sustainability and Circularity sphere. The open and welcoming atmosphere provided the perfect space for many good contacts and talks."
Christoph Centmeyer, Bergans
"The Sustainability Hub, its activities and how it connects to the rest of the Future Lab creates a natural meeting point where all visitors can land for learning, dialogue and inspiration on crucial survival issues for business. As a sustainability professional, I view the Hub as the most important area of the show in terms of moving the industry forward."
Joel Svedlund, Peak 63 – Outdoor Lab
"ISPO 2022 marked Sustainability no longer being an add on, but a core part of everybody's responsibility. The dial has moved as there is now a want for better practice. For ages we have known how bad some of the actions were, but there was no clear path of how to move away from this action – just lots of ideas being trialed. The truth is that no one knows the ideal solution, but it is clear that by everyone working together this objective will be reached sooner. The Sustainability Hub organized by GreenroomVoice created the place for these discussions to happen. There were posters/ guided tours/ workshops/ presentations/ breaking brands/ the EOG Breakfast over spill – but most of all: conversations between key thought leaders."
Charles Ross – Subject Lead for Performance Sportswear Design at the Royal College of Art, UK
"The Sustainability Hub at ISPO once again exceeded all expectations. The tremendous popularity has shown that this topic can no longer be avoided in the sports and outdoor industry. A big thanks to Cira and Anna from GreenroomVoice for the impeccable organization and bringing together different ideas and personalities. The Sustainability Hub, with its focus on transparency and traceability, was the perfect and, above all, credible platform for our efforts to integrate more and more European wool into the clothing brands' collections. We are already looking forward to the next time!"
Peter Krommer, lavalan
"Greenroom Voice has for years been a great resource in bringing inspirational and educational topics, suppliers and brands together in the Sustainability Hub. The knowledge and experience they share in the daily tours is truly valuable for the audience. As one of the network partners of Greenroom Voice this is a great place to be present!"
KjerstKviseth, Lifecycler, 2025design
 "Future Lab was THE place to be and to visit this year at ISPO Munich, gathering the most innovative actors, very welle represented by the Sustainability Hub : its exhibitions, its daily tours, its conférences and the constant crowd gravitating around the place during the entire show. Definitely the most inspiring place around!"
Thibault Liebenguth, impact strategy and eco-conception , Air Coop
"This year, The Sustainability Hub had a record-breaking poster exhibition curated by GreenroomVoice, where some forty companies and organizations presented their most important messages. Overall, the "hub" was a popular meeting place with positive energy. I was happy to find that ISPO Munich was like the fairs before the pandemic – no other European event gathers so many key people in outdoor and sustainability."
Gabriel Arthur, SUSTON Magazine – SUSTON
«I found this year's Sustainability Hub at ISPO to be extremely encouraging – to meet so many committed companies and sustainable business models and to have inspiring discussions with exciting people. Keep it up – this is the only way we can achieve a more sustainable future together!»
Nicole Kolb, Team Lead Corporate Partnerships, myclimate
"The platform that Greenroom Voice provides through the sustainability hub is incredibly valuable and it is always a pleasure to be featured alongside such inspirational brands and innovations. As a brand without a booth the sustainability hub is a great space for connecting with customers and a great opportunity for exposure during the daily tours."
Dave Maslen, Global Partnerships Manager, The New Zealand Merino Company Limited
"The Sustainability Hub at ISPO Munich 2022 was not only enormously diverse and varied as usual, but also once again showed the level at which parts of the industry are already working.
In particular, the GRV Showcase format was an example of cooperation for us at Sympatex. The team around Anna Rodewald and Cira Riedel has mastered every level: in-depth knowledge of sustainability, special team thinking and excellent communication skills. Many thanks to GreenroomVoice and ISPO."
Kim Scholze, Moderator, Host, Podcaster, Sympathy Lab

Visit the Virtual GRV Transparency Tour
Here you find a YouTube Channel dedicated to online presentations of our exhibitors