Consumers and NGOs have a growing interest in textile and leather products that are not only safe for human health, but have also been manufactured under socially responsible conditions. Insisting upon credible proof showing product stewardship throughout the entire value chain. A OEKO-TEX® MADE IN GREEN label therefore ensures optimal positioning in global competition. A partnership with Hohenstein provides extensive expertise and practical tools, allowing each brand to highlight their unique sustainability and transparency efforts.
#traceability #transparency
Hohenstein specialises in testing, certifying and researching all kinds of textile-based products. With over 600 employees in Bönnigheim/ Germany their headquarters, and more than 40 subsidiaries, offices, and laboratories around the world, they are actively tackling the current international challenges of the textile industry regarding sustainable business.
Meet Dr. Jan Beringer, Hohenstein Senior Scientific Expert from Hohenstein team personally at OutDoor by ISPO 2023
What: GRV Guided Transparency Tour
When: Monday, June 05th, 2023 – 11am
Where: SUSTAINABILITY HUB/ Munich Order Center- Atrium 3- 124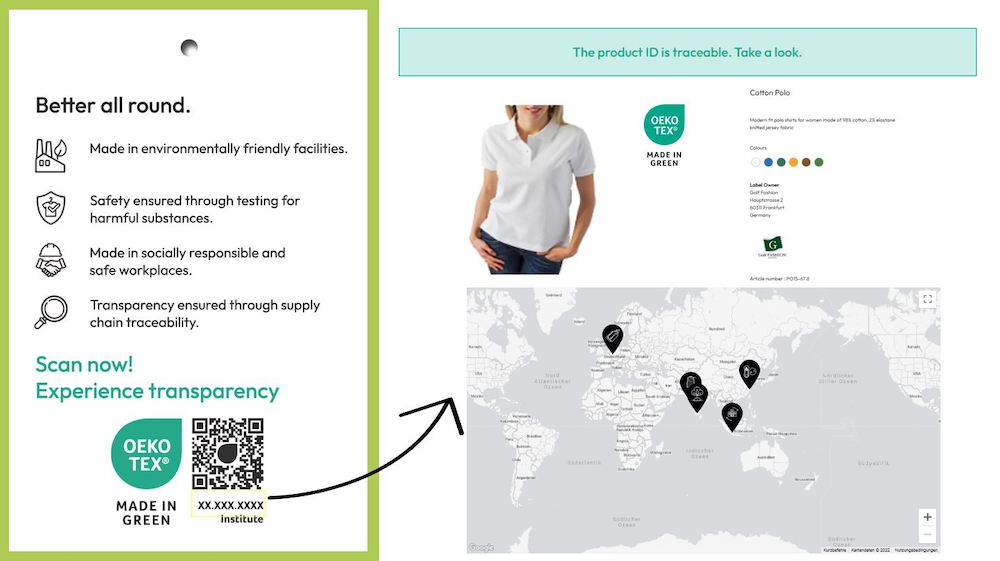 The OEKO-TEX® MADE IN GREEN label gives consumers a clear vision of the various manufacturing companies involved in the production of textile and leather products. Every product awarded with the MADE IN GREEN label can be transparently traced throughout its production process, by means of a unique product ID or QR code. The myOEKO-TEX® website provides companies with a tool for centrally managing sustainability issues affecting their supply chains. This OEKO-TEX® customer portal has become a practical support in the process of meeting key demands of policymakers, NGOs and consumers: transparent supply chains.
OEKO-TEX® MADE IN GREEN is a traceable product label used to inform consumers and other stakeholders credibly about responsible actions. The label is awarded based on the STeP certification of sustainable production facilities and STANDARD 100 certification of products tested for harmful substances. The central tool used to manage B2B data and communication is the myOEKO-TEX® database.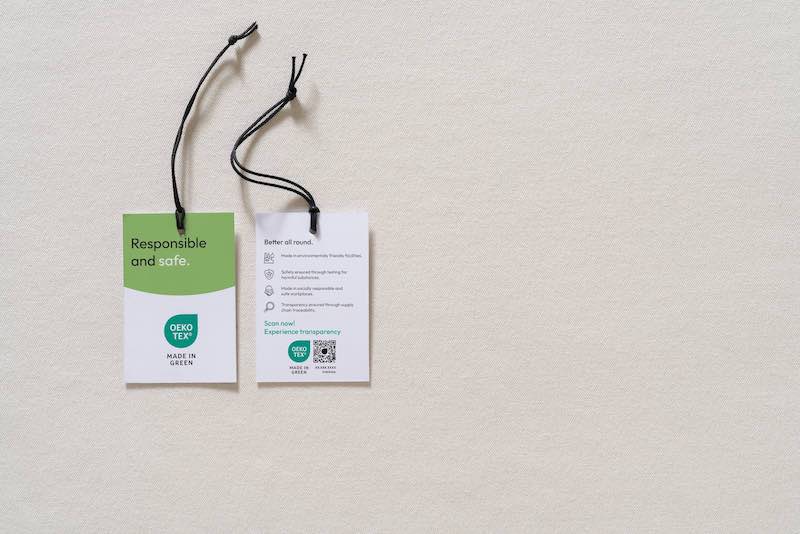 In addition to proving that labelled items are safe for human ecology and have been produced by using environmentally friendly processes and socially responsible working conditions, the MADE IN GREEN product ID and/or QR code also provides the following information:
Details about the labelled item
– e.g., material specifications, article numbers, colors, etc.
Contact details of the label owner as well as what kind of company it is
– e.g., brand, retailer, importer, production company, etc.
Listing of the facilities on a world map that were involved in the production of the labelled article
Information on what types of operation the manufacturing plants belong to
-e.g., sewing, weaving, spinning, finishing, etc.
Consumers and buyers can obtain this information by entering the product ID in the Label Check section of the OEKO-TEX® website or by scanning the QR code on the label.
The MADE IN GREEN label allows consumers to inform themselves about the responsible actions of textile and leather companies and their suppliers.
Each component that makes up 5% or more of the total weight of the labeled product must originate from production facilities that have been certified with OEKO-TEX® STeP.
At least 85% of a labeled product's total weight must originate from production facilities that have been STeP certified. All cutting and sewing, and wet-chemical processing must take place in a STeP certified facility.
The product must be OEKO-TEX® STANDARD 100 certified. Second party products that are sold to companies within the supply chain must be certified with OEKO-TEX® STeP and meet all the criteria mentioned above.
Validity
The MADE IN GREEN label requires annual renewal. A purchaser of a MADE IN GREEN labeled product must be able to trace the relevant information for five years. If there are any changes to the supply chain that relate to the label requirements, a new label must be issued.
Hohenstein offers tailor-made solutions for implementing product stewardship in all aspects of sustainable business, to brands, retailers or producers. Know-how and practical tools help brands transparently communicate services outwards in all areas of the textile chain. The Hohenstein Quality Label is issued for products that have been rigorously tested and meet defined minimum requirements. All testing is conducted in Hohenstein's accredited testing labs with criteria based on decades of experience, scientific research and broad scope of knowledge.
Share your experience and meet pioneers.
Connect with these exhibitors in person:
Sun, June 4th, 11 am: Exped, Icebug, Iteratif, Rab & Lowe Aplin, Re:Down, Südwolle Group, Sympatex
Mon, June 5th, 11 am: Globetrotter Ausrüstung, Grüner Knopf (GIZ), Hohenstein, lavalan®, Mountain Equipment, Picture Organic Clothing
Tue, June 6th, 11 am: myclimate, SUSTON, VAUDE