Down and feathers have been recycled for as long as they have been used as filling material for bedding products. Historically, down was separated from shell fabrics, subsequently washed and then mixed with new down, ultimately creating new products. Re:Down's process is based on this ancient practice. In partnership with Iterarif, Re:Down uses advanced technologies to facilitate the separation of down from other materials in used and worn-out jackets. This process harvests high quality, 100% recycled, down and feathers, preparing them for a second life, and therefore, producing traceablity across all stages from post-consumer to finished, regenerated product. Generating a finished product that meets the 'GLOBAL RECYCLED STANDARD.'
#recycleddown #circularity
Meet Eric Firmann, Co-Founder of Re:Down personally at OutDoor by ISPO 2023
What: GRV Guided Transparency Tour
When: Sunday, June 4th, 2023 – 11am
Where: SUSTAINABILITY HUB/ Munich Order Center- Atrium 3- 124
Management of textile trash is one of the biggest environmental challenges in all developed countries. In Europe alone, the annual textile waste is estimated at 7.500.000 tons! Down, and feather filled products, are only a fraction of this problem. Down remains in good condition whereas the shell fabric is damaged, therefore down can easily be re-processed and re-used thanks to it's durability.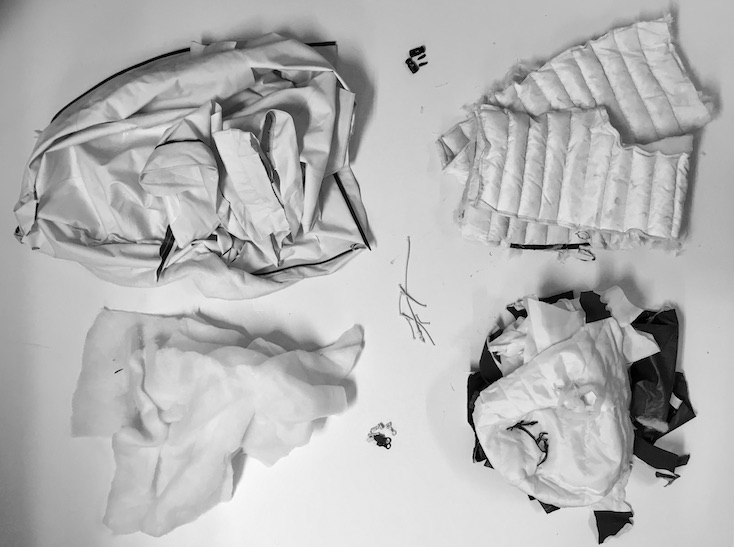 Re:Down uses their own thermal water (no city water) for the washing with simple soap. The used water goes through a water recycling system and is sent back to earth as clean drinking water. In the regular finishing process of Re:Down product the sterilization phase takes place through high temperatures, therefore no chemicals are used at all.
The raw materials come mainly from textile waste collectors. Re:Down chooses their partners based on social values and the transparency of businesses. Most of them are mixed economy companies between private owners and charity organisations or established partnerships with collectives or hotel chains who donate used down products.
The need for high quality down has significantly increased over the past few years due to a growing demand worldwide for down jackets and other down products. At the same time, post-consumer resources are also growing annually. Re:Down is completely disconnected from the virgin down business and is able to recycle 97% of all the goods they collect, including the textile shells.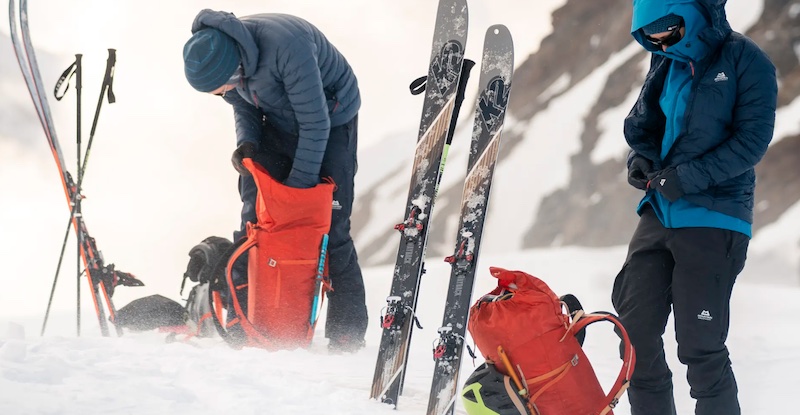 In 2019 Re:Down established a second supply chain in China, based on their European business model.
One of the main differences between the European and Chinese operations is the nature of the post consumer goods that are collected. In Europe bedding items make up the majority of post consumer goods whereas in China the majority are down jackets. This creates very different challenges for recycling the different types of products. The quality of the down extracted from jackets is higher than the quality of down in bedding, but the extraction itself much more difficult in jackets. This is why Re:Down has developed an automatic extraction machine, which is much more efficient and more user friendly than manual extraction. The extraction machine is operational in Europe and in China.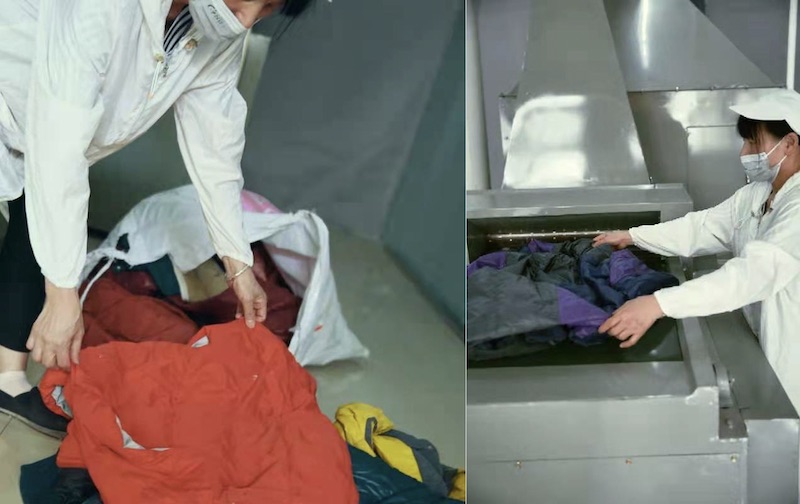 The jackets enter the machine after all trims and zippers have been removed.
Inside the machine, the jackets get cut into pieces and the down is extracted with a vacuum system. Approximately 90% of the down can be collected through this process allowing face fabrics and the other parts of the recycled products to be separated for other recycling/up-cycling processes.
Another challenge when recycling jackets, is due to the mix of the contents and components of all the other materials, anything outside of the filling material. These materials are separate, secondary outputs of the extraction machine.
When recycling bedding items, the recycled items consist of only cotton fabric and filling material. The cotton waste can be easily separated and recycled. When working with jackets, buttons, zippers made out of metal and plastics, and various types of fabrics very often mixed in one garment makes the secondary process of recycling the non-filling materials much more complicated.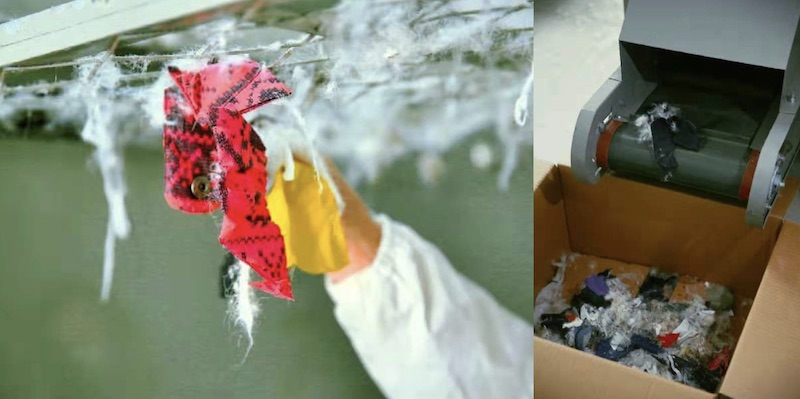 Re:Down has a Zero Waste policy. In order to accomplish this goal, Re:Down has partnered with a French Start-up Company –  Iteratif – to find solutions for the re-use of all the non-filling related components. Iteratif has created expert processes that are able to separate different components and to recycle them in the best possible ways. Iteratif has also developed a software system that provides full traceability of materials resulting in a completely transparent recycling chain.
Iteratif's partnership with Re:Down's recycling machine in France provides a unique Research and Development opportunity, learning through the process of down jacket recycling in order to offer a circular solution for all down jackets. The result – Re:Down can now provide Outdoor brands the possibility to fully recycle their down products through the collaborative work with Iteraif. In the future, Re:Down plans to use the Iteratif model also for their operations in China, where, as mentioned before, there are more down jackets coming back from post-consumer waste streams than bedding. A vast majority of garment manufacturing and production facilities, for a variety of brands, are located in China. Through the collaborative efforts of Re:Down and Iteratif, Chinese production facilities can introduce recycled Down into the next product cycle. A perfect match!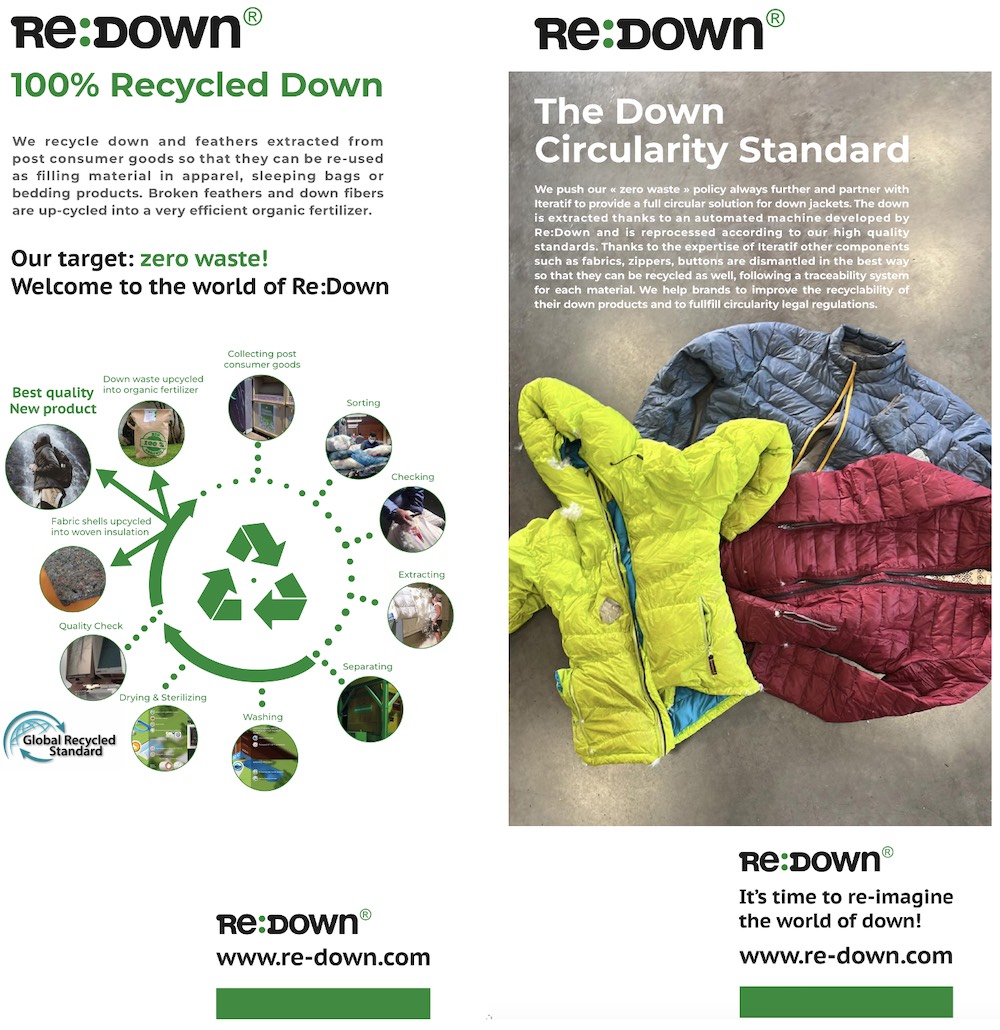 Share your experience and meet pioneers.
You can connect with these exhibitors personally:
Sun, June 4th, 11 am: Exped, Icebug, Iteratif, Rab & Lowe Aplin, Re:Down, Südwolle Group, Sympatex
Mon, June 5th, 11 am: Globetrotter Ausrüstung, Grüner Knopf (GIZ), Hohenstein, lavalan®, Mountain Equipment, Picture Organic Clothing
Tue, June 6th, 11 am: myclimate, SUSTON, VAUDE