EXPED's commitment to integrate sustainability into all facets of their business, is a great example for the Outdoor Industry of what is possible. Coming from deeply rooted values like durability and repairability, EXPED is centralizing initiatives around two categories: Circularity and Climate action, as they hope will have the most significant impact.
Meet Muriel Weber from EXPED personally at OutDoor by ISPO 2023
What: GRV Guided Transparency Tour
When: Sunday, June 04, 2023 – 11am
Where: SUSTAINABILITY HUB/ Munich Order Center- Atrium 3- 124
"EXPED places great emphasis on environmental and climate protection. We take full responsibility for 100% of or climate related emissions by financing climate protection projects with myclimate."  With commitments to the myclimate "plan vivo" projects, Exped's sleeping mats, pillows, sleeping bags, liners, booties as well as their operations are carbon calculated. Currently, 70% of the unavoidable emissions are invested in myclimate projects, with the goal to invest the equivalent of all unavoidable emissions by 2024.
"Durability and repairability of our products are key focus areas. Keeping a product in use as long as possible, is the most efficient approach to circularity." EXPED.
EXPED's well developed repair systems and specialised workshops around the globe have created a system helping consumers extend the lifespan of each product, significantly reducing its footprint.  Through offering repair kits, and instructional videos EXPED is encouraging consumers to repair instead of discard or replace.
Durability means quality.  How does EXPED ensure this?
– 100% quality control, ensuring every matt that leaves the factory is airtight.
– Stress tests to ensure our mats are up to consumers expectations and outdoor needs.
– Moisture free inflation, having pioneered at providing devices for moisture free inflation which adds significantly to the lifespan of each mat.
– Accessories that enhance durability. While lightweight gear is a priority for some consumers, others seek comfort, ease and a different experience. Through the design of a range of products from lightweight for high end expeditions, to more durable products that will last a long time for different needs the diversity allows EXPED's products to meet each user's durability demands.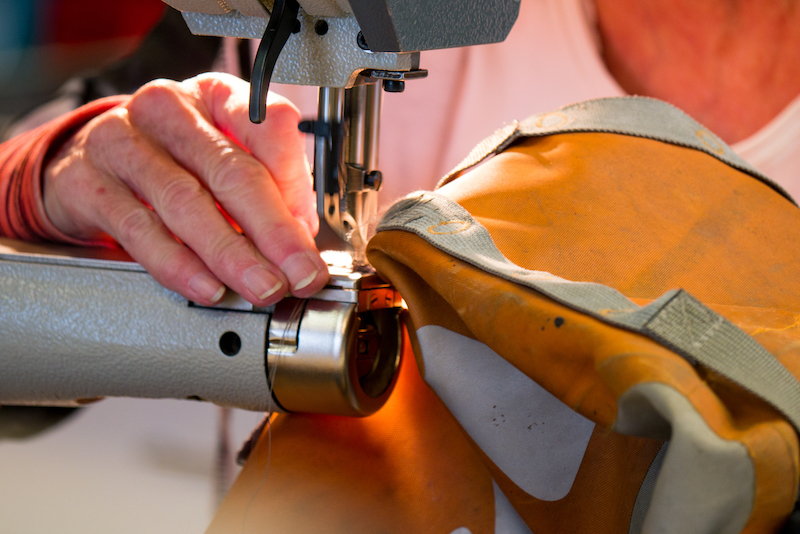 EXPED's relationship with myclimate has helped them to achieve to reduce their carbon footprints.  myclimate is an international non-profit foundation with Swiss roots, a leader in voluntary CO2 reduction.  With the help of this partnership EXPED is proud to announce milestones in climate protection. Through a careful examination of emissions from production all the way to transport, EXPED has clearly been able to measure and reduce their impact, funding certified climate protection projects in collaboration with myclimate. One of EXPED's proudest successes in this realm was in 2021 when they were able to claim the first and only CO2 balanced mats on the market through their climate protection contributions.
Working in partnership with climate protection projects support the use of renewable energies, energy efficiency measures, reduction in methane emissions etc.  EXPED supports projects such as "Protection of the Tanzanian Forests for Indigenous Peoples, Wildlife and Climate" and ensures a reduction in deforestation and helps safeguard habitat, ecology, and economic security for indigenous populations in the region.
Greenroom Voice sees EXPED's initiatives to integrate sustainability on all levels, and the relationships with respected and thoughtful projects such as myclimate as a best in practice business wide philosophy that should be looked to as an example. Whilst remaining relevant and respected in producing technical outdoor products. Climate protection will stay a key aspect of securing our future, as we are now headed into the era, where biodiversity will have to be save-guarded and regenerated in order to stay functional and continue to provide us with the many life-supporting services we have enjoyed since the dawn of humanity.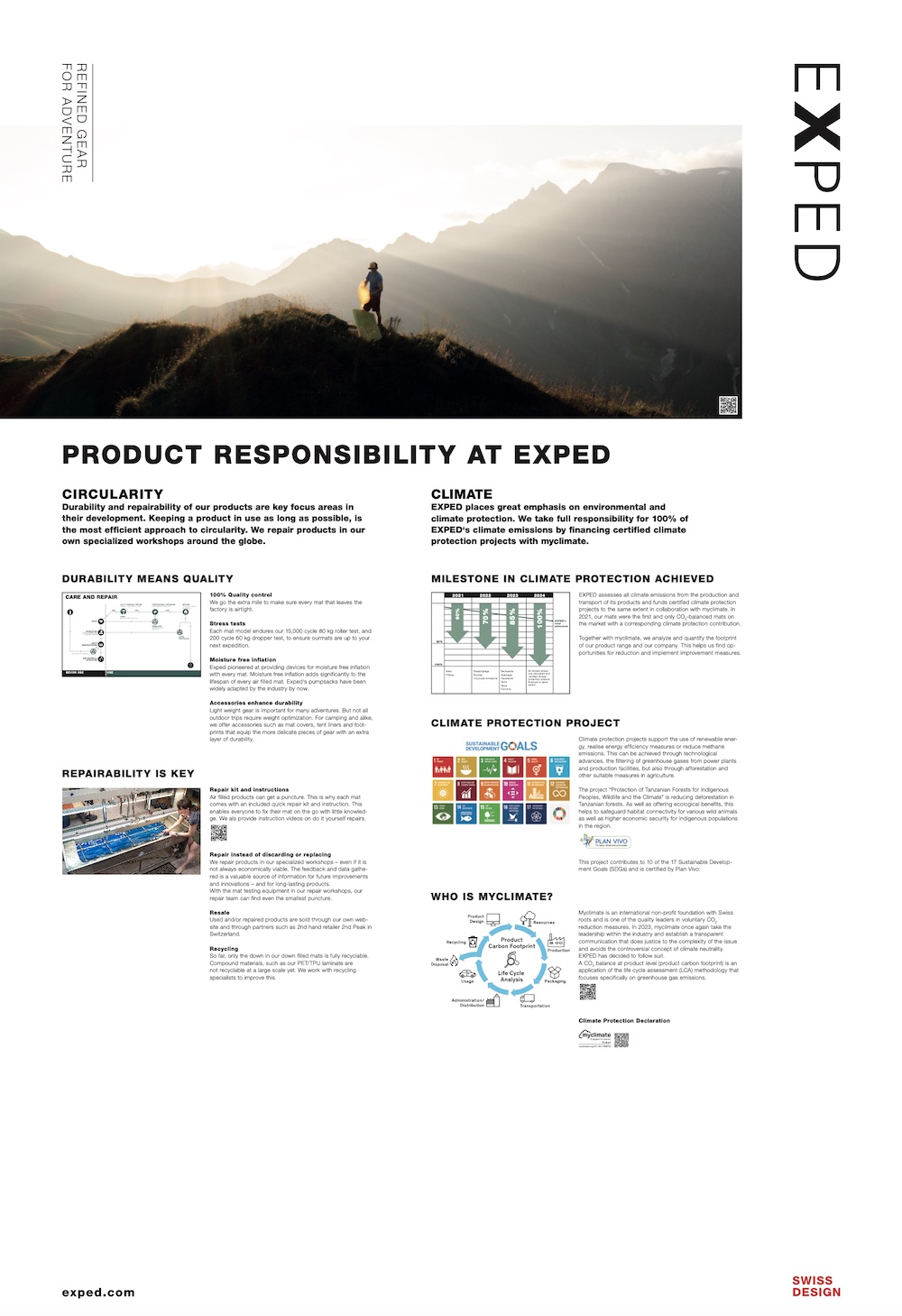 Share your experience and meet pioneers. You can connect with these exhibitors personally:
Sun, June 4th, 11 am: Exped, Icebug, Iteratif, Rab & Lowe Alpine, Re:Down, Südwolle Group
Mon, June 5th, 11 am: Globetrotter Ausrüstung, Green Button (GIZ), Hohenstein, lavalan®, Mountain Equipment, Picture Organic Clothing
Tue, June 6th, 11 am: myclimate, SUSTON, Sympatex, VAUDE