Creating Circularity can change our world with outdoor gear being RE:DESIGNED for circular concepts, for waste prevention and recycling. VAUDE is guiding the textile industry in the transition to a circular economy.  As the textile industry currently recycles only one percent of used clothing, GreenroomVoice welcomes VAUDE's engagement  in showcasing new practices in material usage from cradle to gate.
#circularity #designrevolution #repair
Meet Hilke Patzwall from VAUDE personally at OutDoor by ISPO 2023
What: GRV Guided Transparency Tour
When: Tuesday, June 06, 2023 – 11am
Where: SUSTAINABILITY HUB/ Munich Order Center- Atrium 3- 124
VAUDE is stepping out of line and finding solutions to new material production and product design that will set the example of best practice for the greater industry. VAUDE's RETHINK strategy, a strong commitment to research and design, has successfully reduced their CO2 emissions by half. Making new products out of used ones, over 70 percent of VAUDE's entire Collection is now made primarily from recycled or bio-based materials.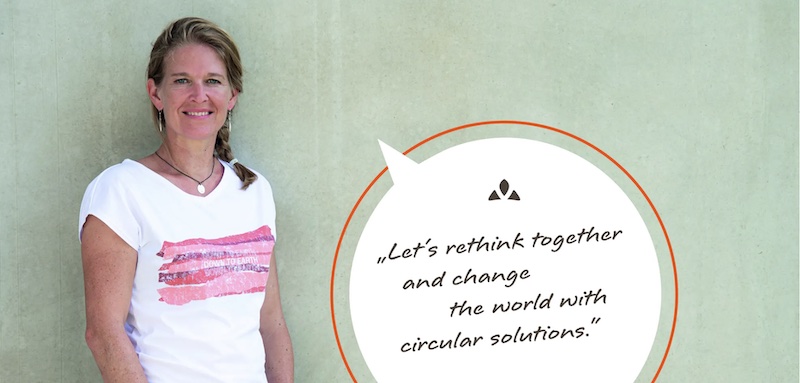 Recyclable and recycled textiles are already broadly available. But, it takes a commitment to research, and education as well as a design team that can integrate these new strategies in a highly technical market.  For many years, signs of innovation and development came with hybrid materials, complex mixes, and blends, seeking ultimate performance without an end-of-life vision. The slate was blank and innovation grew at high speed, and with it came an environmental cost.  The complex nature of all these products left them in the waste stream, not recyclable, not possible to separate and reuse in any circular way.
VAUDE has made a commitment to go back to the drawing board.  Through careful choice and optimal combinations of different materials, stringent design requirements, and cutting-edge processing technologies VAUDE has been able to drastically reduce their dependance on finite fossil resources.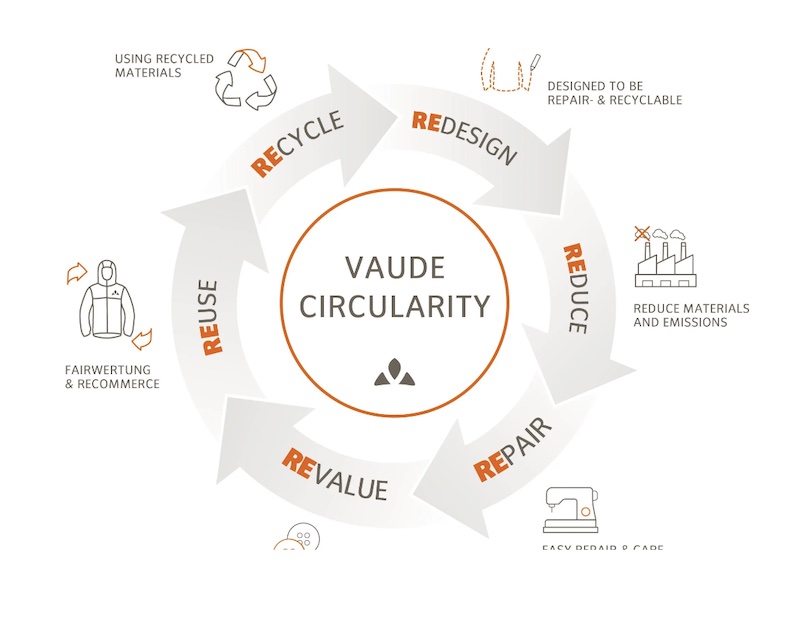 Strict design principles start the process, optimizing cuts and layouts to avoid waste, creating robust and easy to repair designs. VAUDE was also the first brand with a functional repair index to enhance design choices right from the start. And finally, reducing textiles to one type of raw material: all parts are made of recycled polyester and parts made of other materials can be removed. This makes it easy to turn these products back into the circle to become new raw materials.
In some ways VAUDE's RETHINK principles seem so simple, but while VAUDE is setting a new standard that needs to become common place, we are still a long way from seeing the greater textile industry follow suit.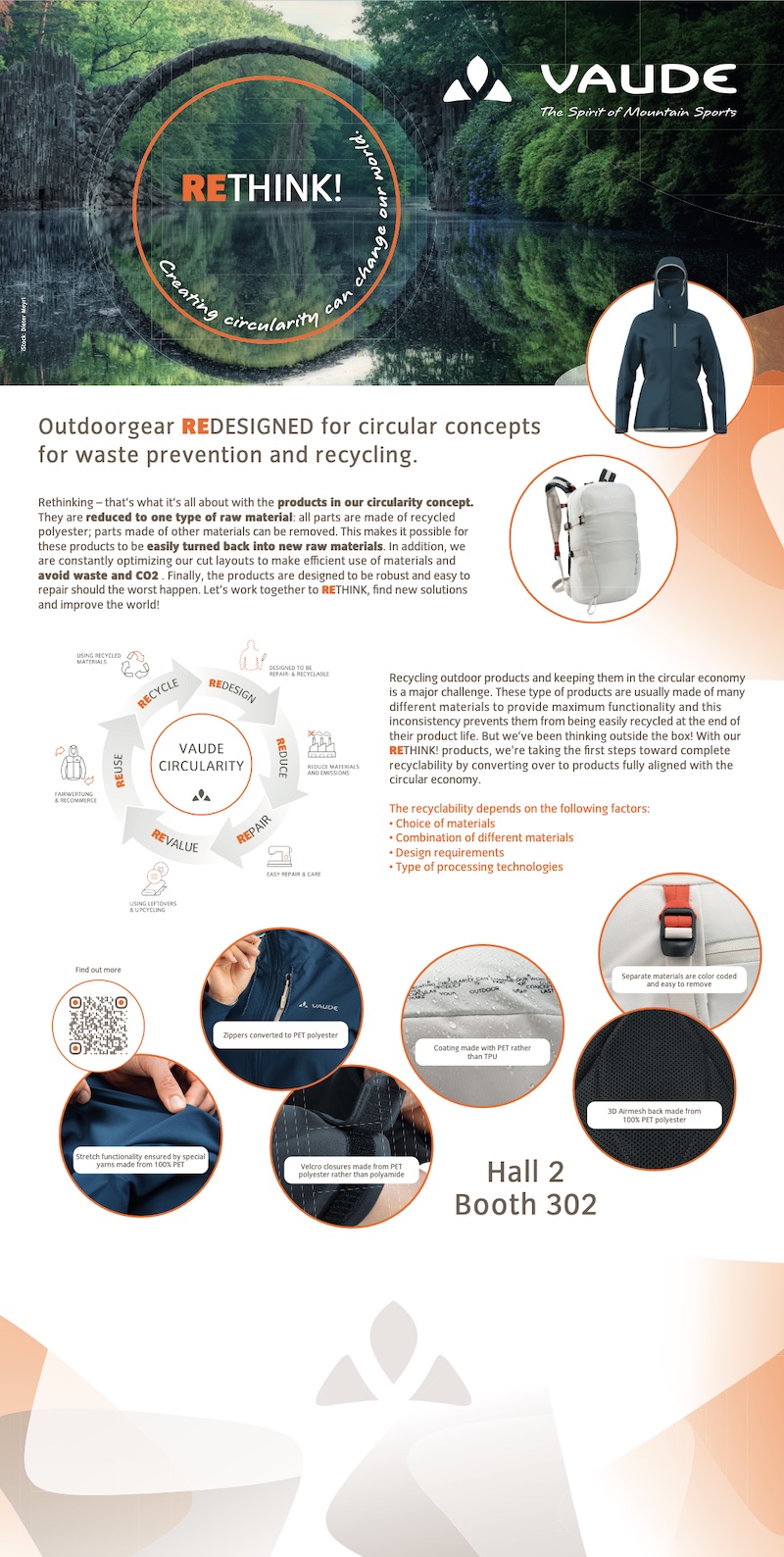 Share your experience and meet pioneers. You can connect with these exhibitors personally:
Sun, June 4th, 11 am: Exped, Icebug, Iteratif, Rab & Lowe Alpine, Re:Down, Südwolle Group, Sympatex
Mon, June 5th, 11 am: Globetrotter Ausrüstung, Grüner Knopf (GIZ), Hohenstein, lavalan®, Mountain Equipment, Picture Organic Clothing
Tue, June 6th, 11 am: myclimate, SUSTON, VAUDE