Monday brought a vibrant atmosphere to the Sustainability Hub.
We began the day with an exclusive tour for retailer trainees, providing them with valuable insights into what lies ahead. Their enthusiastic response was truly heartening.
Later in the day, we had the pleasure of hosting two notable figures who joined us for a personalized tour of the SUSTAINABILITY HUB. Katrin Habenschaden, a politician from Die Grünen and the Second Mayor of Munich, and Timothy Liston, the American Consul General, graced us with their presence. It was inspiring to witness the genuine interest of these political figures in the forefront of the European OutDoor sector.
To conclude the day on a high note, we gathered for a delightful meet-and-greet session, the Sustainability Sun-Downer, where participants had the opportunity to network and connect with like-minded individuals who share a commitment to sustainability.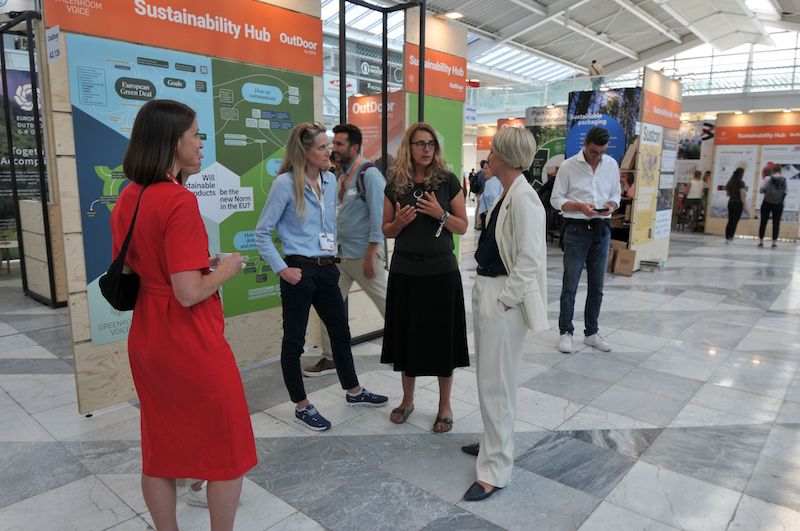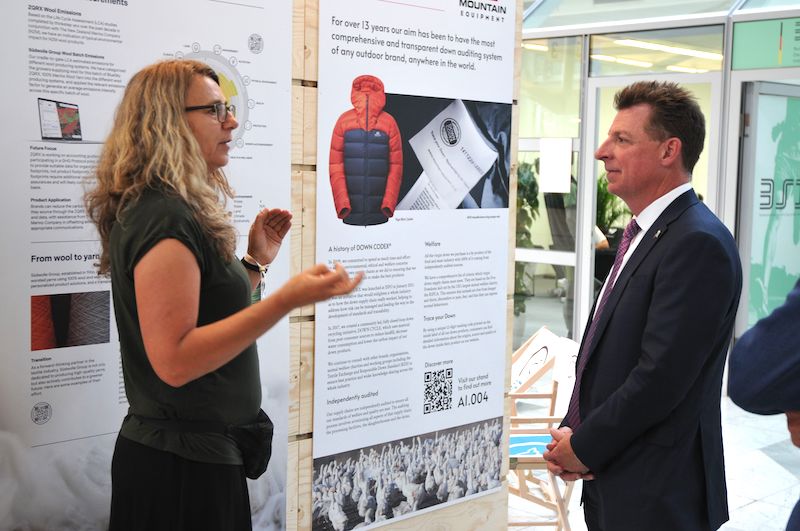 Hohenstein presented their concept of prioritizing credible proof that demonstrates product stewardship throughout the entire value chain. The OEKO-TEX® MADE IN GREEN label provides consumers with a clear understanding of the various manufacturing companies involved in the production of textile and leather products.
Globetrotter showcased their remarkable commitment to sustainability through their new Re:think Store in Bonn, Germany. The store concept revolves around recycling and upcycling, with nearly every aspect of the previous tenant's inventory from Conrad Electronic being reused and repurposed. The store is Cradle to Cradle certified, highlighting its dedication to sustainable practices.
Picture Organic Clothing introduced "The Circular," a comprehensive initiative for textile-to-textile recycling. Their goal is to significantly reduce environmental footprints by seeking circular solutions for materials, engaging consumers in meaningful conversations, providing education and factual information, and driving change in production processes.
Since 2019, sustainable textiles can be easily recognized through the Green Button label. What makes it special is that this government-run label, under the German Federal Ministry for Economic Cooperation and Development (BMZ), evaluates companies based on their responsibility for their textile supply chains and their fulfillment of due diligence obligations.
lavalan® stands out as a product made exclusively from natural and renewable raw materials. It utilizes virgin European wool, which is 100% traceable and stabilized with corn-based PLA. The European origin of the wool ensures reduced emissions due to shorter transportation routes and adherence to the highest animal welfare standards.
Mountain Equipment takes pride in its Down CODEX© initiative, the result of 10 years of dedicated work and commitment to establishing standards and rules for down traceability in all their products. They have been true pioneers in down traceability, taking action long before the industry as a whole recognized its importance.
We had the honor of hosting a panel discussion on the legislative phase-out of PFAS (per- and polyfluoroalkyl substances) in Europe. With the looming PFAS ban set for 2025, the auditorium was filled to capacity, with every seat occupied and even people sitting on the floor to listen to the insights shared by an esteemed panel of experts.
The panel consisted of Stefan Posner, a renowned independent researcher on fluorinated substances and co-author of the proposal for a ban in Europe; Martin Axelhed, CEO of Fjällräven and Executive Vice President of Brands at FENIX Outdoor; and Aiko Bode, Chief Sustainability Officer at Fenix Outdoor and Global Sustainability Director of Fjällräven. Together, they delved into the "what," "why," and "how" of Fjällräven's early initiation of the PFAS phase-out in 2009.
The discussion shed light on the importance of addressing PFAS contamination, and the panelists provided valuable insights into the reasons behind the phase-out and the actions taken by Fjällräven to eliminate these harmful substances from their products. The audience was captivated by the expertise and commitment demonstrated by the panelists, making the session an impactful and informative experience for all.