We kicked off the day with the highly successful GRV Transparency Tour, attracting a large audience of up to 60 listeners and more.
Südwolle Group and NZ Merino provided updates on the ZQRX regenerative farming program in New Zealand, showcasing how large-scale sheep farms can invest in biodiversity through 10-year forward contracts. Südwolle Group also made significant progress in decarbonizing their supply chains by implementing solar roof panels in their processing factories.
Rab and Lowe Alpine introduced their groundbreaking approach to transparently communicate material information and issued a call to action to the entire industry, urging them to adopt consumer-friendly and simplified transparency measures.
Exped impressed with their long-term circularity strategies, emphasizing thorough quality controls, intelligent design, durability, and repairability. They also demonstrated their commitment to sustainability by calculating their CO2 emissions through myclimate, reducing emissions wherever possible, and investing in climate protection projects through myclimate vivo to offset their remaining emissions.
Icebug showcased their dedication to decarbonizing their supply chain by organising the installation solar panels on the rooftops of their factories. They innovatively collaborated with a solar panel vendor, utilizing the factory rooftops as a space and purchasing electricity at a reduced rate, creating a mutually beneficial arrangement. Icebug called upon the industry to explore the possibility of implementing similar initiatives in producing countries to rapidly reduce emissions caused by fossil fuel energy.
Re:Down and Iteratif exemplified an excellent collaborative effort. Re:Down specializes in down recycling, collecting bedding and outdoor equipment like sleeping bags and jackets to extract the down for a second life. However, these products also contain textiles, trims, and other accessories that require proper waste management. This is where Iteratif comes in, addressing the crucial bottleneck of textile-to-textile recycling by sorting the materials and ensuring they are channeled into the appropriate recycling streams.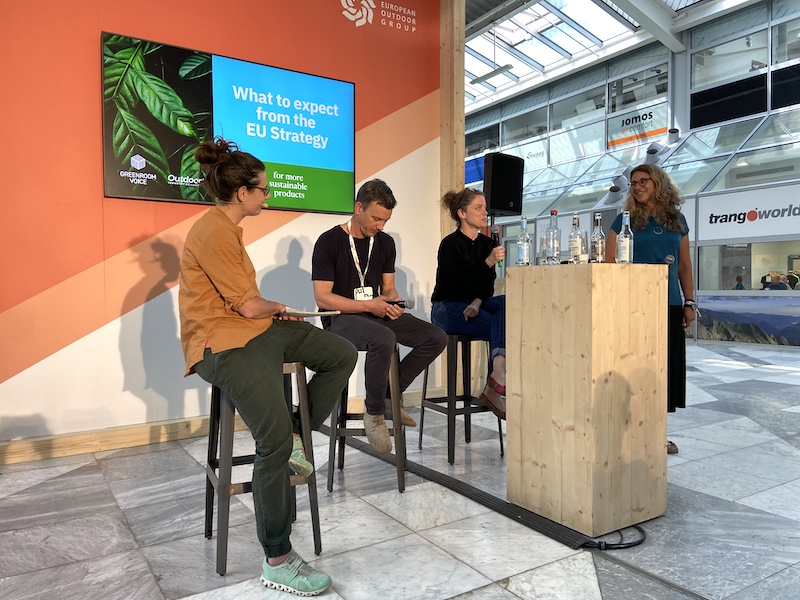 We had the pleasure of hosting two panels in collaboration with the Outdoor Industry Compass:
"What to Expect from the EU Strategy for More Sustainable Products"
"How to Design for a Circular Future"
Both panels were skillfully moderated by Anna Rodewald and Claudia Klingelhöfer, and we were fortunate to have insightful contributions from Pascale Moreau and Luca Boniolo of Ohana Public Affairs, as well as Florian Tiedtke representing the Green Button.
The panel on Regenerative Design, led by Prof. Tobias Luthe from ETH Zürich, presented a masterclass targeted at top-level management. The objective was to equip the industry's key figures with the necessary tools and knowledge to navigate forthcoming changes and respond proactively while aligning with scientific principles.