Wether your next summer adventure takes you over hills, through the forest or into the sea, NORR has got you covered with their latest edition of GRV evaluated products.
Continue reading to discover how 'Brand Management', 'Brand Commitment', and 'Product Specifications' are highlighted through the various brands and products showcased here. Use this guide to discover exactly what gear your taking the next time you go on an adventure, so that the only uncertainty about your trip is what you will find along the trail.
Good Brand Management lies at the center of every sustainable brand. It provides the framework for goals, commitments, and envisioned products to be efficiently realized.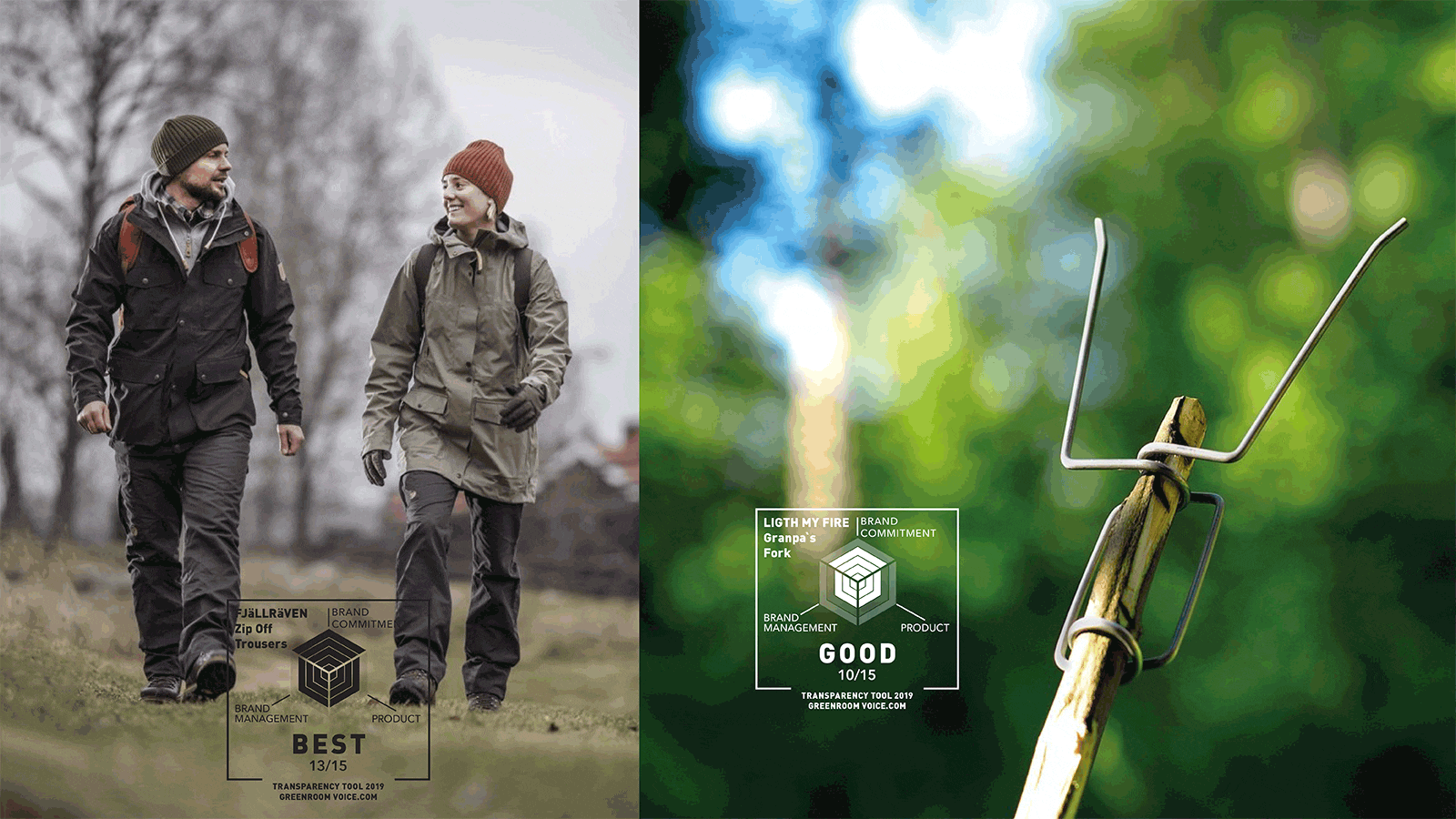 A key point of better Brand Management is transparency. As a brand grows, however, it often becomes more difficult to maintain a high level of transparency, both within the brand and for its consumers. Fjallraven, one of the largest apparel brands in Scandinavia, offers effective solutions to promote its transparency, especially in relation to Brand Management. They have developed their own guidelines to responsible management – "The Fjällräven Way" – and have made the document available to the public to view and download on their website. Their dedication to responsible management helps ensure a high level of quality and sustainability throughout their products. One such product is the Karla Pro Zip-Off Trouser (Best 13/15), a durable PFC-free option, which will keep up and keep you comfortable in cool to warm weather on dry land or through water. The trousers are made out of 'G-1000 Silent Eco' material which is comprised of 65% recycled polyester and 35% GOTS-certified organic cotton. The material comes pre-brushed, resulting in an ultra smooth and soft feel, which when combined with removable lower legs, results in comfort through a multitude of conditions. As with all Fjallraven products there is an emphasis on durability. Reinforced design and the ability to be re-waxed, greatly extend the life of this product.
Another key aspect of Brand Management is taking part in environmental and social projects. Doing so highlights a brands dedication to certain issues and allows them to take advantage of their position to create positive change. Bleed, a small German brand, truly stands out in this field. They place a lot of focus on localized engagement. A great example is their, recently opened, flagship store which exclusively offers GOTS certified organic cotton pants, manufactured just two kilometers away. Bleed also takes part in in various projects with PETA, SurfRiders Europe, and ClimatePartner. They are truly dedicated to creating the most sustainable product possible, resulting in some unique and exciting materials being used. For example, their Eco Bikini (Best 12/15) is made of 100% Econyl® consists of recycled fishing nets and rubbish which has been removed from the Mediterranean Sea. This soft and comfortable material is UV resistant and very resistant to salt water. Manufactured in Croatia, the factory is a small family run business which is regularly visited by Bleed employees to ensure a high social standard. The print on the bikini is done with GOTS certified water-based paints. The CO2 emissions from production and transport of the bikini are calculated and offset with the help of ClimatePartner. Even the packaging is biodegradable plastic. Check out Bleed's unique story here.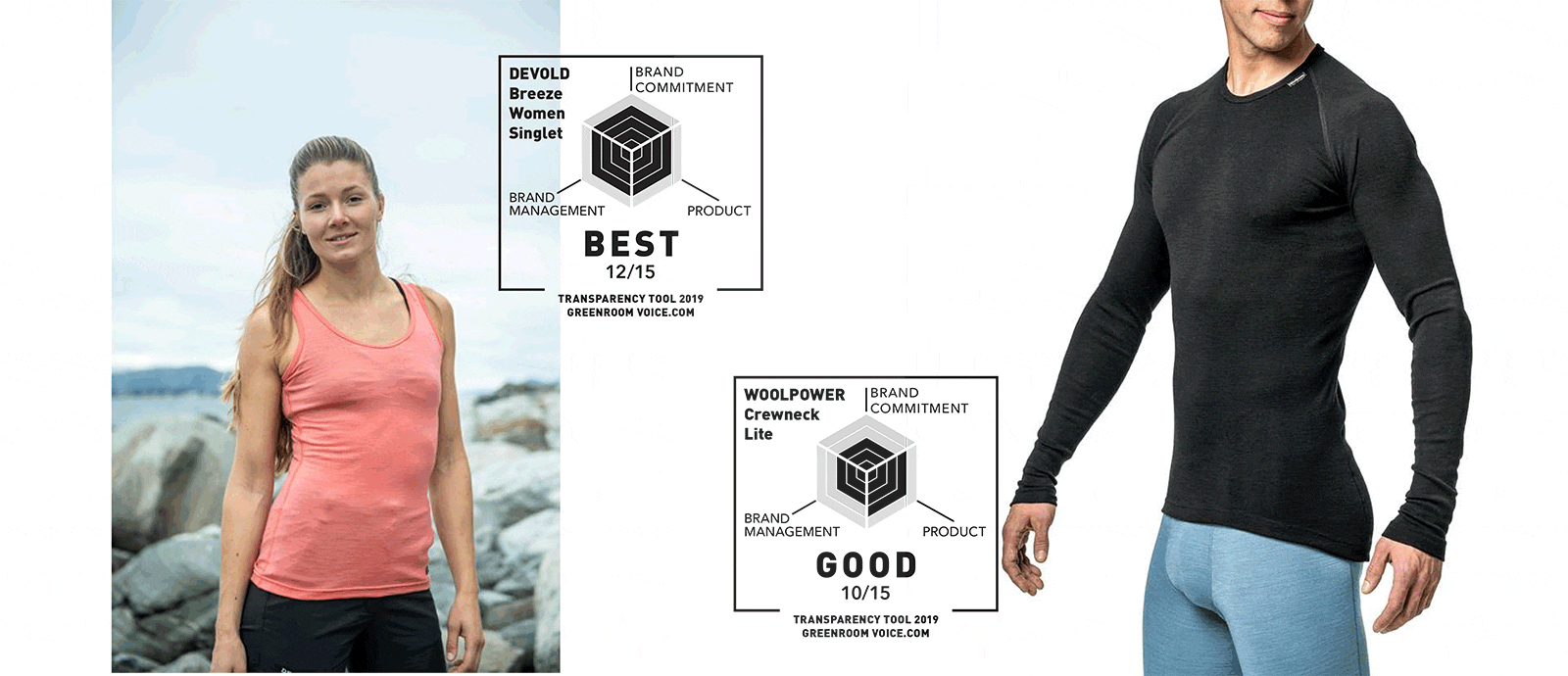 The Woolpower Crewneck LITE (Good 10/15) is an excellent option for protection against the elements in a warmer environment. The design has been engineered for maximal comfort and performance while hiking. The horizontal seams have been positioned farther back, compared to a traditional design, to prevent chaffing and the sleeves have raglan seams in order to prevent rubbing while wearing a backpack. It Is made of 80% mulesing-free merino wool from South America and 20% Polyamid. The shirt is knit in Östersun, Sweden under high social and environmental standards. The Polyamid is produced in Germany and the yarn is directly died, versus having the finished product dyed. This method saves a lot of water and uses let chemicals.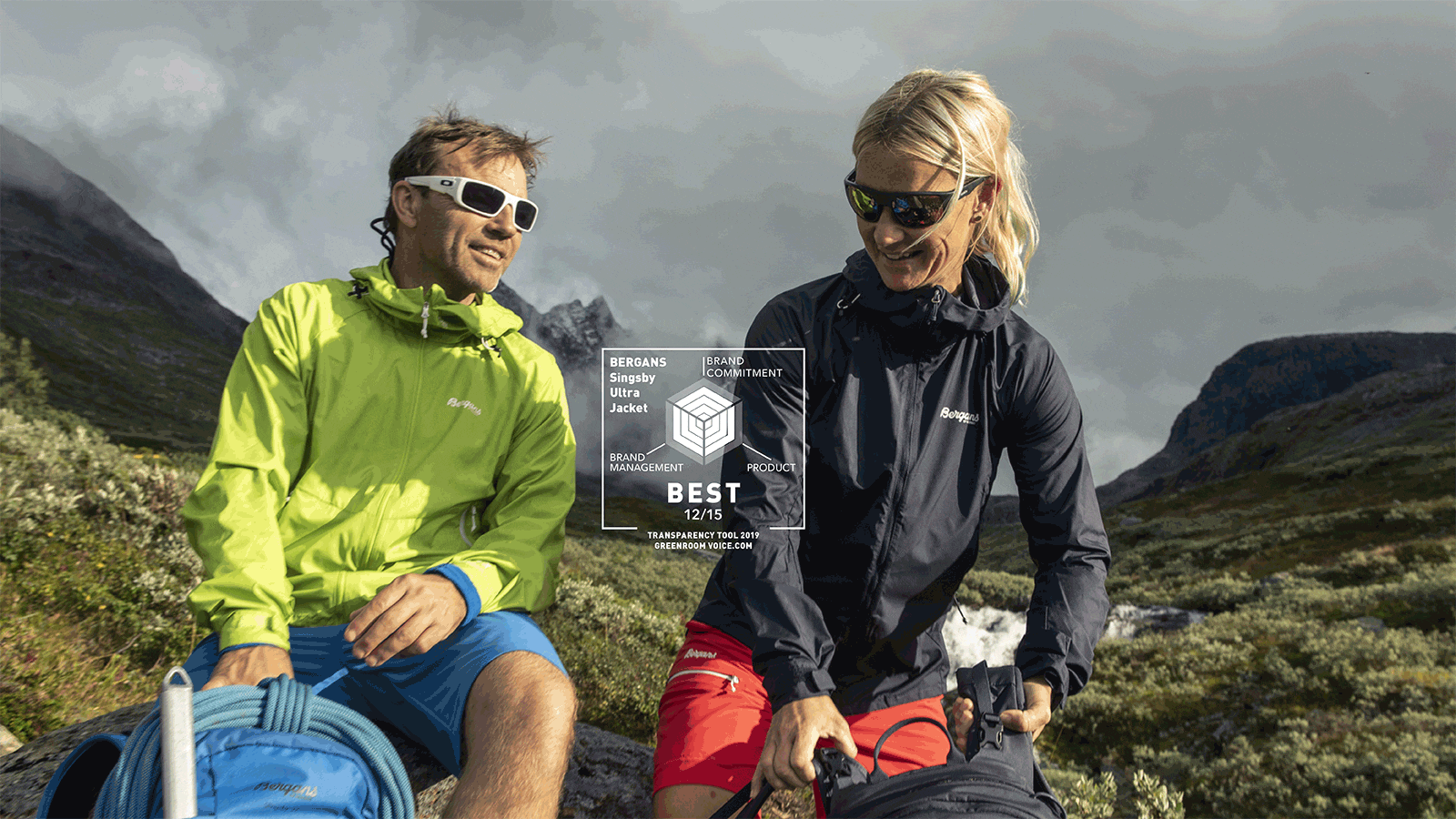 Something we at GRV always like to see, in relation to Brand Commitment, is a long-term partnership between a brand and the various members of their supply chain. These partnerships are indicative of a strong commitment to social responsibility, as they often result in job security and meaningful trust throughout the supply chain. Although establishing such partnerships sometimes may be not as efficient in a financial sense, Bergans of Norway prioritizes these kinds of relationships as they allow Bergans to establish a greater positive control system throughout their supply chain in order to ensure a high level of commitment toward sustainable practices and support of handlers, through their code of conduct. Bergans' sustainability reporting is done following the guidelines of "Ethical Trading Initiative Norway".
The Slingsby Ultra Jacket (Best 12/15) by Bergans is designed to withstand all the elements of mountaineering. It is made of Ecodear®, a unique mix of plant based polyester (30%) and conventional polyester (70%). The plant-based polyester is sourced from molasses and has the same chemical structure as conventional polyester, allowing for a 1:1 recycling output.
Good Brand Commitment is an ongoing process. As the world of sustainability changes, conscious brands must keep up in order to maintain and develop their standards of being environmentally friendly. One such brand, who implemented a massive new commitment toward sustainability this new year, is Light My Fire. LMF is passionate Swedish manufacturer of camping cooking equipment. They replaced a large percentage of their crude oil based plastic products with bio-based plastic products. Their bio-based products result in carbon neutral plastic being used, while helping ease humanities dependency on crude oil. An issue, which arises, when manufacturing bio-based plastics, is land usage. Fields, which are used solely to grow plants for plastic take away land which could be used to grow food or cut down on biodiversity. LMF deals with this issue by using certified agricultural waste for their plastics. They have also streamlined their transportation process to use less material and cut down on CO2 emissions.
LMF's Grandpa's FireFork (Best 11/15) is a versatile grill fork to suit your camp-fire cooking needs. Its unique design easily holds anything from marshmallows to hotdogs, and does not require the cutting of new branches. It is made from stainless spring steel, and bio based plastic. The bio based plastic is 90% derived from waste materials of Brazilian sugar production, and 7% is derived from waste of the wood industry in Germany. Both are certified in their respective countries. The remaining 3% is coloring material. All three are easily recycled and can be put into the same recycling channel.
Another great product showcased is the Breeze Women's Singlet (Best 12/15) from Devold. This garment focuses on simplicity, allowing it to be sustainably sound while not sacrificing performance. It is made of 100% merino wool. This results in a carbon positive product which is 100% recyclable. Devold employs the 'Sheep to Shop' concept which allows anyone to see exactly where the wool comes from. A picture of the farm the wool originates from is attached to the product, offering an exciting path towards more transparency. Animal Welfare follows the guidelines of their own standards, which are based on the Responsible Wool Standard and guarantee no Mulesing. The singlet further showcases Devold's commitment to sustainable responsibility by being manufactured in their own factory in Lithuania while having OEKO-Tex Step certification and other social responsibility certifications which are available to the public.