CleanDye makes apparel collections, dyed sustainably in an ethical and transparent supply chain. CleanDye operates the first water free textile dyeing factory in the world, which also saves not only water but the chemicals that are usually part of the dyeing process.
CleanDye use DyeCoo, a textile dyeing solution that disrupts the traditional dye system by using supercritical carbon dioxide as a solvent instead of water — providing geographical freedom from water sources and offering a head start on legislation that restricts the use of hazardous process chemicals. The technology currently works with polyester fabrics.
Hear CleanDye speak on Sunday the 26th of January at the GRV Transparency Tours at 11.00 am, Sustainability Hub in Hall A2.
CO2 dyeing does not need process chemicals to dissolve dyes. When pressurized, CO2 becomes supercritical, a phase between a liquid and a gas, the CO2 has a high solvent power, allowing the dye to dissolve easily. The dyes are transported deeply into the fibre. The technology uses 100% pure dyes, with more than 98% uptake there is almost no waste.
The CleanDye Factory opened in Vietnam in April 2019 — and it's unlike any dye factory in the world. Because the dye process is fully contained within DyeCoo machines, the factory environment is drier, safer and more pristine than traditional dye-houses. And with less people needed to run the dye process, they predict that long-term operating costs will be 40-60% lower than the industry standard.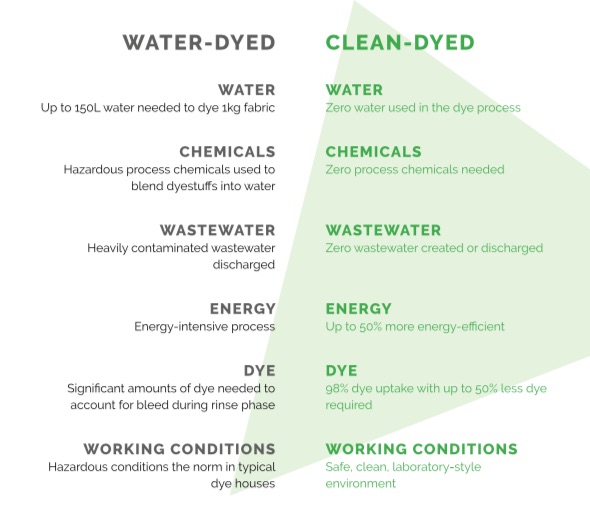 For fabric production, pre- treatment and garment making, CleanDye works with partners that share their values and thrive to operate in line with internationally recognized social compliance standards. As they are a new factory they are in the process of applying for BSCI/Amfori accreditation.
They are also working toward implementation of industry- recognized chemical management systems, including Oeko-Tex Standard 1000 and BLUESIGN.
CleanDye is run by a global team of industry veterans who are passionate about making the textile business more sustainable, with offices in Hong Kong, Vietnam and the Netherlands.
CleanDye was co-founded by Olaf Lohle, a seasoned entrepreneur with a deep and multi-faceted understanding of the textiles industry, and Patrick Lohle, a trained chemist with decades of experience in private label apparel production. The CEO Jeannine Butzelaar is a fashion industry executive with decades of experience at some of Europe's biggest brands.