For the Swiss GRV Member Brand Exped, Cira RIEDEL and Stéphane ROBIN from GreenroomVoice answer nine questions about how to create successful sustainability communication in 2020.
Exped: How important is the topic of sustainability in the outdoor industry?
GRV: The topic is essential. It shows in business behaviour of the brands, the choice of materials, the selection of the appropriate certifications and also more the ever, in communication. However, many are on the path towards a more sustainable way of doing business and obviously at various stages. A closer look reveals the different ways and the intensity of which these topics are dealt with in the individual companies.
Exped: How important is communication of sustainability?
GRV: More and more important! This is why brands need to get sustainability experts involved with marketers to focus on topics which have the greatest positive impact, which might not always the most obvious subject. Up until now marketers were here to sell, and sustainability experts were here to explain the complexity of the subjects, now they need to come together to promote new behaviours. At GreenroomVoice we help brands to coordinate marketing with sustainability, making sure messages are safe, understandable and fact checked.
Exped: Do you think that the targeted communication of sustainability on different channels increases the reputation and trust in a company?
GRV: Absolutely, as multichannel approach has to remain consistent across channels to be successful, it's the same regarding sustainability, the message has to be consistent but also understandable, provable, comparable and fairly "sober". Beautiful stories and highlights can, of course, make the whole experience more tangible and create closeness between the brand and the customer. But in our opinion, it is very important that all possible questions around sustainability are explained correctly and without any "decoration". For this purpose and reason, we create sustainability profiles on www.greenroomvoice.com, a third party independent information base for everyone to check. Depending on the media, a brand can explore each and every aspect of their profile and get more in depth with tailored content.
Exped: Do you think the outdoor industry can "benefit" from the recent upswing in the climate discourse?
GRV: This recent upswing in the climate discourse we saw last year has been somewhat "interrupted" by the Covid-19 crisis. The extent of people's development in consciousness that resulted from the Covid-19 experience and how it will affect behaviour in consumption cannot be estimated at all at this stage. People will probably give preference to more essential things, many parameters might shift in importance. Since outdoor companies manufacture products for people who like to be outdoors, off grid and in the wild, we can imagine that such products will become even more attractive now and in the near future. Many outdoor companies show climate conscious efforts and actions, which will be certainly be leaving a positive impression on the concerned sort of consumer. The idea of "benefit" itself and what it means (double or triple bottom line), might be looked from a different perspective.
Exped: Should outdoor companies actively participate in this discourse? (For example on social media)
GRV: It all depends on how, and with what goal exactly. And also what discourse … There are numerous ones around the issue of climate change. A company can also get involved in very different ways. There are no limits to creativity. But the actions that are taken in their own right, and not only to be "communicated", have a higher impact to stories that are made exclusively for communication. Especially in the social media.
Exped: As a sustainability expert, how do you rate Exped AG's CSR commitment?
GRV: Since Exped is a member of GreenroomVoice, we know the company very well. What we particularly like about Exped is the down-to-earth mindset of having pursued a long-term strategy that benefits sustainability. There are certainly opportunities here and there to reduce the negative impact of the products in accordance with the innovations and technologies available. We know that the people at Exped deal with these questions thoroughly.
What is always to be considered in an assessment is to look at the impact itself and the possibilities that a company actually has in relation to their product portfolio. If Exped cannot use recycled materials because they do not exist in the required form, despite the goodwill of Exped, the impact is higher than that of a company that can use recycled materials. But this being said, Exped does makes sure to take the best possible actions in all areas of action to reduce negative impact. This sustainable mindset is incorporated into the decisions and is consistently pursued.
Exped: As an external specialist, how do you assess communication relating to CSR topics (especially at product level or raw materials and materials)
GRV: Don't be afraid to sound technical. Today we often see that marketing of superior products in terms of sustainability sound like green-washing: to make the message easy to digest and to understand, it is reduced and no longer technically correct. By consistently referring to technically correct wording, a learning effect can emerge that exudes much greater authenticity than statements that are too simple.
Exped: What do you think is an "ideal" communication of sustainability issues, especially on social media?
GRV: Engage your audience, stay up to date, use you own hashtags, be consistent, give knowledge, rise awareness. You've heard those tips before, but few brands actually apply them in the long run. Consistency is probably the hardest thing to achieve. People are curious, it's never too late or too early to bring up sustainability topics. Be part of the conversation, help people on their daily adventure. At GreenroomVoice we give support to build the right strategy, using the right words to avoid confusion. Once you have been identified as a reliable source of information, you gain trust and build long lasting relations.
Exped: In your opinion, which social media platform is best suited for communicating sustainability issues?
GRV: Instagram stories offer a unique opportunity to straighten your narrative with information that was once buried in your sustainability report. Its rich format allows complex storytelling with a high level of interaction. In our point of view, it's the perfect place to promote authentic content, pushing real life experiences forward. It's crucial to be part of the conversation, and to answer customer questions before they ask them. Live broadcast with IGTV also allows your customers to get to know your brand on a deeper level. More than ever, quality content and a strong relationship with your audience is the best way to increase your reach.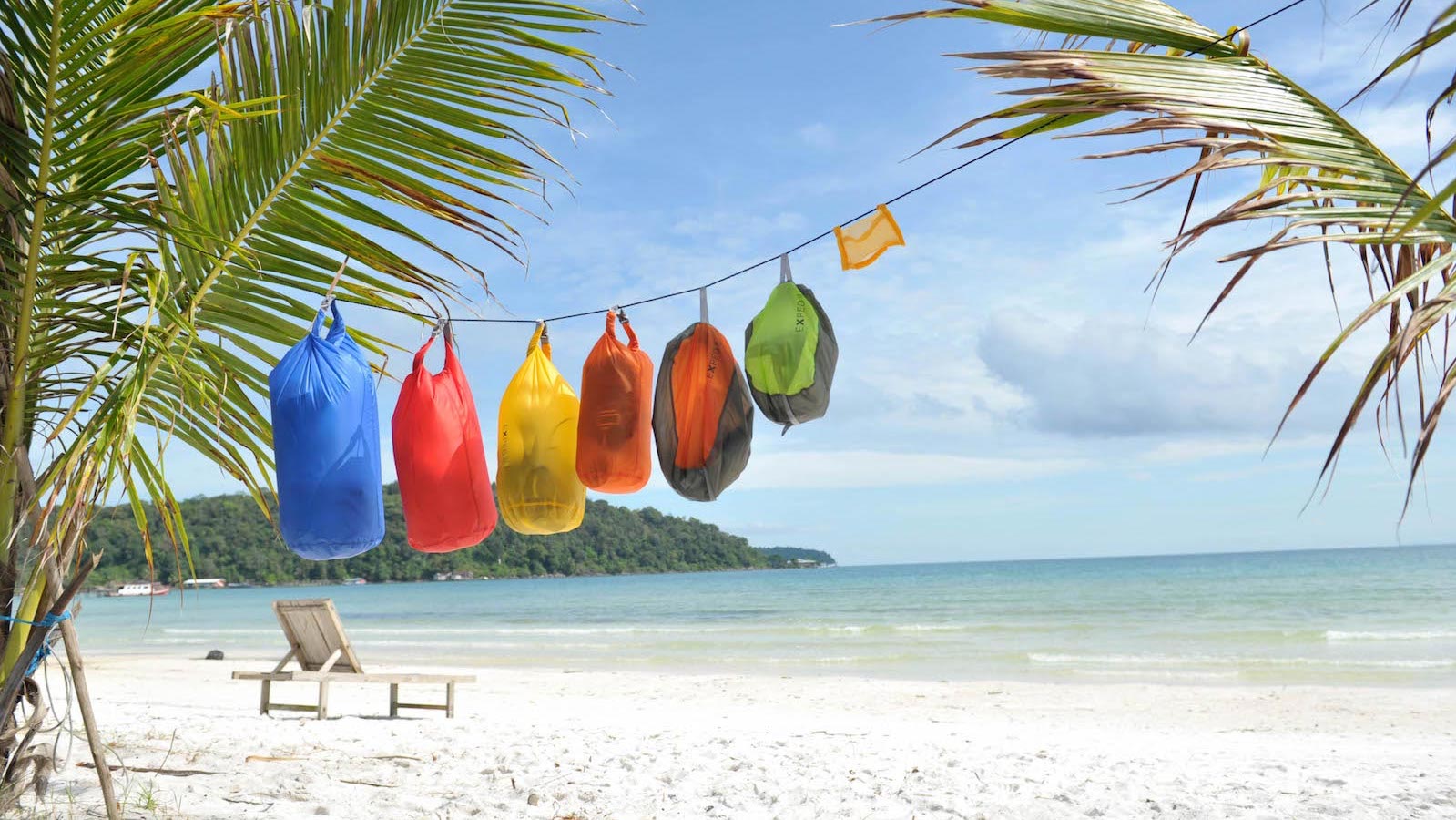 If you have become curious about Exped, then visit the information of their two latest additions to the GRV sustainability profiles.
The Hammock Trekking Tarp and the Fold Drybag UL